Ice Bear System Central to Anaheim's Peak Electricity Reduction Incentive Program
Windsor, Colo. — August 11, 2006—Ice Energy, Inc., the leading provider of Ice Storage Air Conditioning (ISAC) systems, today announced that its innovative Ice Bear® energy-storage unit is the only product approved for Anaheim's new Thermal Energy Storage (TES) Incentive Program. The Ice Bear system delivers superior cooling performance while relieving stress from the power grid by shifting peak energy used by air conditioners to evening hours. As part of the new program, Anaheim's City Council approved a groundbreaking TES rate. This new rate strongly encourages peak demand reduction in light commercial and industrial buildings. Under the terms of the TES Incentive Program, Anaheim businesses can receive up to $21,000 for the demand reduction associated with each Ice Bear system applied and benefit from ongoing electricity bill savings.

"Air conditioners are the single largest contributor to California's peak power problem, accounting for greater than 50 percent of peak demand on hot summer days. During our heat wave in July of this year, California's grid operators reported record demand of 50,269 MW, a level not expected to be reached until 2011," said Marcie Edwards, General Manager, Anaheim Public Utilities. "As we saw all too clearly, peak electricity is a critical issue facing California, and technologies like the Ice Bear product from Ice Energy constitute a crucial piece of the solution. At Anaheim Public Utilities, we are raising the bar with our TES Peak Shifting Program."
The Ice Bear module is a simple add-on to a conventional air conditioning unit and uses off-peak electricity to efficiently make and store ice at night. The energy stored as ice provides effective cooling during the hottest hours of the day dramatically reducing peak electrical demand while promoting energy efficiency.
Anaheim installed California's first Ice Bear system in September 2004 at the city's Fire Station #8, and the unit has consistently demonstrated a 95 percent reduction in peak demand and a 5 percent overall reduction in energy consumed.
"The Ice Bear system is uniquely suited for addressing the peak electricity crisis, particularly when adopted in conjunction with a powerful incentive program like Anaheim's," said Frank Ramirez, CEO of Ice Energy, Inc. "Electricity end users can reduce their electricity bills and total energy consumption without sacrificing cooling comfort. Meanwhile, utilities can manage peak energy demand and meet their customer needs without relying on the persistence of voluntary curtailment or straining their existing infrastructure. As more utilities follow Anaheim's pioneering lead, Californians can look forward to cooler indoor summers."
Anaheim's TES Peak Shifting Program provides financial incentives for participation in the utility's peak reduction program based on the age and size of each air conditioning unit to which an Ice Bear system is applied. Additionally, the utility will offer a special TES time-of-use rate specifically designed to provide savings for shifting energy use away from peak times of day. For more information and an application visit www.anaheim.net, click on Public Utilities, then Advantage Services/Business Incentives.
About Ice Energy, Inc.
Ice Energy® is an energy technology company focused on energy storage and advanced cooling and refrigeration products and technologies. The company manufactures and markets a new Ice Storage Air Conditioner (ISAC) product line for residential and commercial applications that addresses the increasing demand for electricity. Ice Energy's products shift the largest component of residential and commercial peak demand -- air conditioning -- from expensive "on-peak" times of the day to "off-peak" periods, when energy is less expensive and less polluting. Recently approved as an optional compliance measure for California's Title 24 building energy efficiency standards, the Ice Bear® system provides superior cooling comfort while significantly reducing the cost of energy. For more information visit www.ice-energy.com or call 877-5-ICEBEAR.
Ice Energy and Ice Bear are registered trademarks of Ice Energy, Inc.
About Anaheim Public Utilities
For more than 100 years, Anaheim Public Utilities has served Anaheim water and electric customers with low rates and reliable service. Anaheim Public Utilities is Orange County's only publicly owned water and electric utility.
About Anaheim
Founded in 1857, the City of Anaheim is one of the nation's premier municipalities and California's 10th most populous city. As the oldest and largest city in Orange County, Anaheim covers 50 square miles, with more than 345,000 residents and 2,077 employees. The municipal corporation's annual budget is $1.298 billion. The city boasts world-class organizations such as the Anaheim Angels, Boeing, CKE Restaurants, Inc., L-3 Communications, the Anaheim Ducks, Pacific Sunwear, The Walt Disney Company and the USA Men's Volleyball Team. Annually, Anaheim also welcomes millions of visitors to the city, truly making it where the world comes to live, work and play. For more information, please visit www.anaheim.net.
Media Contacts:
Rosalind Jackson
Antenna Group (for Ice Energy)
415-977-1923
rosalind@antennagroup.com
Mike Ebbing
Anaheim Public Utilities
714-765-4284
mebbing@anaheim.net
Featured Product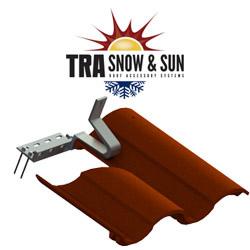 You haven't installed a tile mount that is easier to install than the Solar Tile Mount manufactured by TRA Snow and Sun. Solar Tile Mount is used on all tile roof profiles: flat, mid, and high. It is made in the USA of aluminum alloy for strength and excellent corrosion resistance. Solar Tile Mount is built to allow more ease in installation with more rise from the tile surface to the rail for better air flow below panels. The adjustable base is longer than most allowing attachment 6" to the left or right to have the bracket in the base of the pan of the tile and still fasten to the rafter. Solar Tile Mount is adjustable for counter batten systems from ¾" to 3". The horizontal rail is directly above base fasteners giving greater uplift resistance than any other system. For superior waterproofing apply TRA Snow and Sun's butyl backed VersaFlash aluminum flashing. No tile flashing is needed on top of the tile for greater labor and material cost savings.