As oil, gas and electricity costs continue to climb, more Ontario homeowners and businesses are discovering that 'going green' with geothermal solutions from Selectpower Inc. is paying off for both the environment and the bottom line.
Geothermal technology delivers healthy returns to both the environment and the bottom line

Ontario homeowners, businesses say going green makes more 'cents' than ever
GUELPH, ON, Aug. 9 /CNW/ - As oil, gas and electricity costs continue to climb with no end in sight, more Ontario homeowners and businesses are discovering that 'going green' with renewable energy solutions from Selectpower Inc. is paying off for both the environment and the bottom line. Homeowner Brian Cowan of Puslinch, Ontario, recently installed a Selectpower geothermal heating system to heat, cool and provide hot water in his 3600-square-foot house and swimming pool. Cowan has typically paid about $1,000 a month in energy costs for his home but the switch to Selectpower will slash his bills to between $400 and $500 a month.
That represents savings of $500 to $600 every month - or $6,000 to $7,200 a year - now that Cowan has stopped using all electricity to heat and cool his house and propane to heat the pool. "The main reason we wanted a geothermal system was to save energy, " says Cowan. "Our bills were getting higher and higher. Now, as energy costs rise, we know that the payoff with a renewable energy system like this from Selectpower can only get better."
Geothermal heating and cooling systems have long been known to benefit the environment by eliminating greenhouse gas emissions produced by traditional oil and gas systems. But what more and more Canadians are discovering - as they seek relief from consistently rising energy costs - is that today's affordable geothermal systems can dramatically reduce energy bills at the same time.
"Selectpower is helping consumers and businesses reduce their energy costs while they conserve energy," says Suzanne Wiltshire, president of Selectpower. "Today's affordable energy solutions not only help customers to conserve energy for a greener world, they also pay financial dividends as customers cut energy bills to a fraction of what they were."
Using geothermal technology in one home today eliminates greenhouse gas emissions equivalent to taking two cars off the road every year, says Wiltshire. "That's a big step but to be able to do that while generating a financial payback at the same time is remarkable - and we are doing it right now with our customers."
Geothermal technology is one of the fastest-growing applications of renewable energy in the world right now for heating and cooling, Wiltshire adds, and as more people seek out affordable and sustainable alternatives to increasingly costly oil and gas systems, the market will continue to soar.
"The word is spreading rapidly as more homeowners and businesses discover geothermal technology as a truly sustainable and affordable solution that literally pays for itself," Wiltshire said.
Traditionally seen as an alternative solution, geothermal technology is quickly turning into a mainstream solution designed to generate dramatic benefits over the long term. "We have more people calling us every day with new questions about how to put a geothermal system to work for them and for the environment," she added.
While more homeowners are choosing geothermal systems to save energy and cut costs, many others are discovering similar advantages with Selectpower's high-efficiency heating and cooling systems.
Guelph accountant Karen Mewhiney says that since upgrading her home's furnace and central air systems last year with Selectpower technology, she has cut her home's heating, cooling and hot water bills in half - even after increasing the size of her water heater. "My only regret is that I did not make the switch to Selectpower sooner, " says Mewhiney. "The cost savings really add up at the end of the year."
More details on how homeowners and businesses are using Selectpower Inc.
services and products today to save energy and cut costs are available online at www.selectpower.ca.
ABOUT SELECTPOWER INC.
Selectpower provides renewable energy solutions and services that are designed to help Ontario homeowners and businesses manage their energy consumption and reduce their energy bills while enjoying greater comfort and convenience. Selectpower's Energy-Smart Solutions include draft-proofing, high-efficiency heating and air conditioning, water heating and solar and geothermal systems. Selectpower offers affordable financing options for all of its products and services. Selectpower is an affiliate of Guelph Hydro Inc.
Featured Product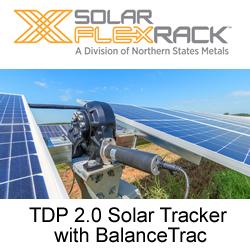 Solar FlexRack's latest solar tracker technology bundles an advanced tracker design with a full team of seasoned engineering and installation experts at your service. The next-generation solar tracker delivers a package of features that both enable increased energy yields for commercial and utility-scale solar installations, and significantly reduce project risks. That translates to smart installation cost-savings across your project budget.