Maxwell Technologies and German Automotive Systems Supplier, Kromberg & Schubert GMBH & Co. KG to Collaborate in Developing ULtracapacitor-Based Starter System for Cars
Benefits Include Improved Starting Performance, Lower Cost, Reduced Cabling, Longer Battery Life

SAN DIEGO, Calif. - Maxwell Technologies, Inc. (Nasdaq: MXWL) and Kromberg & Schubert GmbH & Co. KG, a leading global supplier of wire harnesses and electrical and electronic components to the automotive industry, have signed a memorandum of understanding outlining terms of an alliance to incorporate Maxwell's BOOSTCAP® ultracapacitors into a highly efficient, low-cost, engine starting system for automobiles.
Dr. Richard Balanson, Maxwell's president and chief executive officer, said that extensive testing and analysis confirm that an ultracapacitor-based starter power node located in close proximity to the starter will not only improve starting performance, but also enable reductions in system cost, complexity and weight.
"Incorporating ultracapacitors to relieve the battery of the demanding short-duration, high-current, starting load provides several benefits, including extending battery life, downsizing the battery and reducing cabling," Balanson said. "Kromberg's wire harness and electronic systems design expertise and established relationships with automakers around the world make it an ideal development partner for this kind of system."
Arthur Kurz, manager electronic integration, said that ultracapacitors' burst power capabilities, cold temperature performance and long cycle life make them particularly well-suited for vehicle starting.
"Automotive batteries store a great deal of energy, but must be over-sized to deliver current rapidly enough for acceptable starting performance, and their ability to deliver such current drops off sharply when the temperature approaches freezing," Kurz said. "Ultracapacitors store less energy than batteries, but can deliver ample current for starting at temperatures as low as -40 degrees, so a system combining batteries and ultracapacitors provides a superior solution."
Kurz pointed out that many newer automotive designs place the battery in the trunk area, which requires running a heavy, rigid, expensive, 70-to-90 mm copper cable the length of the car to provide sufficient starting current. However, he noted that a system employing a small ultracapacitor-based power module located near the starter can be charged by a lighter, flexible, less expensive, 16-to-25 mm cable.
"In addition to providing faster, more reliable starting, this ultracapacitor-based design reduces heavy, expensive copper cabling and allows for a less complex wiring scheme," Kurz explained. "Our calculations show that the system will pay for itself by lowering wire harness cost and reducing the size and extending the lifetime of the battery, as well as contributing to improved fuel efficiency by lowering vehicle weight."
Balanson said that Maxwell continues to work directly with transportation and automotive OEMs as well as other Tier 1 suppliers worldwide to design and develop innovative energy storage and power delivery solutions.
"We continue to focus on establishing Maxwell as the leading and lowest-cost producer of ultracapacitor products and aligning ourselves with leading OEMs and system integrators such as Kromberg to achieve the broadest possible penetration of these key strategic markets globally," Balanson said.
-more-
MAXWELL AND KROMBERG & SCHUBERT TO DEVELOP STARTING SYSTEM FOR AUTOS
-2-
About Kromberg & Schubert
Kromberg & Schubert GmbH & Co. KG founded in 1902 is a global supplier of wire harnesses, special cables and wires, plastics, grommets and other electrical and electronic components mainly for the automotive market. Headquartered in Abensberg, Germany, the company has more than 13,000 employees worldwide in 30 locations. For more information, please visit: www.Kromberg-Schubert.com.
About Maxwell Technologies
Maxwell is a leading developer and manufacturer of innovative, cost-effective energy storage and power delivery solutions. Our BOOSTCAP® ultracapacitor cells and multi-cell modules and POWERCACHE® backup power systems provide safe and reliable power solutions for applications in consumer and industrial electronics, transportation and telecommunications. Our CONDIS® high-voltage grading and coupling capacitors help to ensure the safety and reliability of electric utility infrastructure and other applications involving transport, distribution and measurement of high-voltage electrical energy. Our radiation-mitigated microelectronic products include power modules, memory modules and single board computers that incorporate powerful commercial silicon for superior performance and high reliability in aerospace applications. For more information, please visit: www.maxwell.com.
Forward-Looking Statements
Statements in this news release that are "forward-looking statements" are based on current expectations and assumptions that are subject to risks and uncertainties. Actual results could differ materially because of factors such as:
• development and acceptance of products based on new technologies;
• demand for original equipment manufacturers' products reaching anticipated levels;
• general economic conditions in the markets served by the company's products;
• cost-effective manufacturing of new products;
• the impact of competitive products and pricing;
• risks and uncertainties involved in foreign operations, including the impact of currency fluctuations.
For further information regarding risks and uncertainties associated with Maxwell's business, please refer to the "Management's Discussion and Analysis of Financial Condition and Results of Operations" and "Risk Factors" sections of our SEC filings, including, but not limited to, our annual report on Form 10-K and quarterly reports on Form 10-Q, copies of which may be obtained electronically at our investor relations website at http://www.maxwell.com/company/investors/sec_filings.html, or by contacting Maxwell's investor relations department at +1 (858) 503-3434.
All information in this release is as of September 6, 2006. The company undertakes no duty to update any forward-looking statement to conform the statement to actual results or changes in the company's expectations.
# # #
Featured Product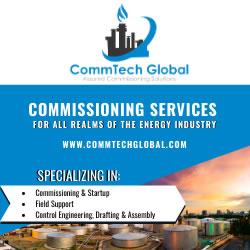 CommTech Global Solutions, LLC, provides professional and reliable commissioning services to customers in all realms of the energy industry. We blend our skills in engineering and technology with innovative business models, offering a complete range of services to assist you for a successful and in compliance operational startup. Consolidation of all our service domains gives our clients a comprehensive set of expertise and far-reaching experience on each project.