Organic cotton, recycled plastic, hemp, natural products, green products, body care, solar, hybrids, etc for the retailer.
PRESS RELEASE

The inaugural, USA International Environmental Trade Show will be held on February 12-15, 2007. For the first time, retailers from around the world will have the opportunity to buy organic, green, eco, natural and other environmental products at one wholesale trade show. The Venetian Hotel, Grand Ballroom, Las Vegas, Nevada.
Organically grown cotton clothing/accessories, hemp clothing/products, bamboo, soy, recycled products, organic and natural personal care products, baby products, furniture, banking services and pet care will be exhibited.
If you are green, natural, organic, eco friendly, hand made and fair traded, then this is the trade show for you. Also exhibiting, environmental building products, sustainable energy, eco cars and other environmental products from around the world.
Environmentally yours,
Howard Gabe
USA International Environmental Trade Show
E-Mail: Gabeh9@aol.com
626 376 8664 cell
631 470 7828 office
Featured Product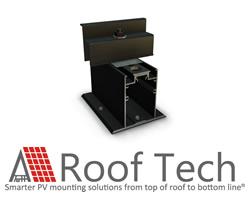 The most compact versatile rail-less PV mounting system under the sun. Instead of placing solar panels on top of long rails, simply attach E Mount AIR to rafters or the roof decking. Once panels are fastened to the roof, the system array is electrically bonded. The result is a visually seamless PV installation that stands the test of time. - Truly "One With The Roof". - PE stamped cert. letters available, UL 2703 Classified, ASTM 2140 fully waterproof. The one and only with integrated flexible flashing certified by the ICC! All the best quality. Only from Roof Tech