Hybridyne Power Systems Canada have been appointed Master Distributors for the Panasonic Remote Hybrid System , a splendid new device which provides lighting and security and is totally powered by Renewable Energy.
FOR IMMEDIATE RELEASE

October 2,2006
HYBRIDYNE POWER SYSTEMS ENTERS INTO MARKETING AGREEMENT WITH PANASONIC CANADA INC..
Newmarket, Ontario - October 2,2006 - Hybridyne Power Systems Canada Inc. announced today that it has entered into a distribution agreement with Panasonic Canada Inc.
The agreement appoints Hybridyne Power Systems Canada as Distributor of Panasonic Remote Energy Systems. The Kazekamome' Remote Hybrid System is an advanced Hybrid (Vertical-Axis wind & PV solar-powered) remotely emplaced lamp standard with optional Wi-Fi security video webcam. Since it is powered totally by renewable energy sources, it can be installed anywhere without expensive trenching and wiring, and consumes no electricity.
Lorne Liddell, National Sales Manager, Panasonic Canada Inc., said, "We are excited to work with Hybridyne in marketing the Remote Hybrid System. Hybridyne is a dynamic company changing the way the world views alternate energy generation. Mr. Liddell continued, "As our relationship develops, Hybridyne's technical expertise will help us to develop this product line beyond it's original intention as a lighting fixture to realize it's potential as a remote energy system."
Commenting on the agreement Thomas Cleland, president and CEO of Hybridyne, said, "Panasonic's Hybrid Renewable Energy remote energy and lighting systems are very appealing to us. This product fits precisely into our corporate vision because the Remote Hybrid System is a "Hybrid" device (using both Wind and Solar power), and because it uses renewable energy to provide a much needed function without adding Greenhouse Gases.
Ultimately it is renewable "Distributed Generation" at the deepest level, and it mates exactly with our installations and philosophy of Distributed Generation Renewable Energy systems as we use them to power our industrial/commercial clients."
Panasonic's Kazekamome' Remote Hybrid System is a stand alone power source using the wind and sun to generate energy and store it within the internal batteries for use later. The system is ideal for use as a lighting fixture, for security applications, remote asset monitoring and as an advertising platform.
For detailed specifications of the Kazekamome' Remote Hybrid System, visit www.RemoteHybridSystem.com
…more
About Panasonic Canada, Inc.
Panasonic Canada Inc. (PCI) is a principal Canadian subsidiary of Matsushita Electric Industrial Co., Ltd. (MEI) of Japan, one of the world's largest producers of electronics and electric products for consumer, business and industrial use. Panasonic's home page is www.panasonic.ca.
About Hybridyne Power Systems Canada Inc.
Hybridyne Power Systems Canada Inc. has formed The Hybridyne Group of Companies which represent one of the largest assemblies of international companies interested in renewable energy and technology ever established and is growing every day.
As a result, this group represents remarkable international depth and breadth of financial stability, established corporate longevity, huge aggregate knowledge capital, national and international technical support and installation technology.
Hybridyne Power Systems specializes in the international engineering sales and "turn-key" installation of its proprietary hybrid, integrated (wind, solar and other dynamic source) renewable energy systems.
The Hybridyne System allows commercial and industrial customers to generate some or all of their own low-cost electricity, giving them significant financial savings and energy inflation protection, while freeing them from the concerns of possible blackouts, brownouts and other power problems, with a large-scale, facility-wide power conditioning system. Because Hybridyne systems use Renewable Energy, they help our customers significantly reduce their "Carbon Footprint", preventing the release of hundreds of tonnes of greenhouse gasses per year.
For further information about Hybridyne, please visit www.hybridynepower.ca or contact:
Richard Leverton, Chief Media Relations Officer
Hybridyne power systems Canada Inc. 877-341-4581
richard.leverton@hybridynepower.ca
Dealer Inquiries are welcomed at : http://www.remotehybridsystem.com/Page_90.01.htm
For further information about Panasonic, please visit www.panasonic.ca or contact:
Marshall Fenn Communications
Trell Heuther 416-962-FENN (3366) ext. 233
trellh@marshall-fenn.com
Featured Product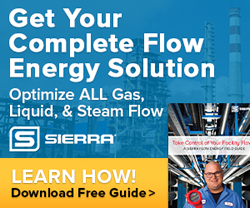 Download Flow Energy Guide - Written by Engineers For Engineers. Learn how to save on energy costs by optimizing your facility flows that impact costs like compressed air, natural gas, steam, and hot or chilled water.