A Record 100 Megawatts of Clean Solar Photovoltaic Power Meeting Performance Expectations at Locations Worldwide
PowerLight Corporation Continues to Lead Market for U.S. and Global Solar Power Deployments

A Record 100 Megawatts of Clean Solar Photovoltaic Power Meeting Performance Expectations at Locations Worldwide
SAN JOSE, CA, OCT. 17, 2006 - PowerLight Corporation, the world's leading global provider of solar power systems, will achieve a record milestone this year -the deployment and successful operation of a cumulative 100 megawatts (MWs) of clean electricity- the most solar PV power deployed and generated by any single solar power system provider. Sixty megawatts of this cumulative one hundred megawatts are deployed in the U.S., with California, New Jersey and Hawaii serving as leading markets for PowerLight systems to date.
"As 2006 draws to a close, PowerLight will reach a significant milestone: the deployment of 100 megawatts of solar PV power around the world, and the generation of over 150 million kWh to date by our customers," said Howard Wenger, executive vice president. "Widespread use of solar power is critical to achieving a sustainable, environmentally safer planet. PowerLight continues to be committed to making solar power a mainstream source of the world's energy supply."
PowerLight consistently delivers on its solar power systems' performance estimates for private and public sector customers. Over 350 PowerLight large-scale systems as well as hundreds of new production homes are monitored daily to ensure they are meeting agreed-upon performance metrics. PowerLight pioneered the use of performance monitoring to track and measure the daily performance of its solar electric systems. Daily performance data is presented to customers 24-hours a day via the MyPowerLight.com website and immediate action is taken when an inconsistency in performance is identified.
PowerLight offers the most advanced, innovative and comprehensive set of solar PV products, from non-penetrating rooftop systems to ground-mounted trackers to covered parking systems. PowerLight Services complement these products; they include system design, project financing, client services, operations and maintenance, and energy efficiency.
"The proven performance of our solar power systems allow our commercial, public sector, utility and residential customers to generate clean, reliable onsite solar power - while accruing significant financial benefits," said Dan Shugar, president. "We're very proud that our customers, including more than 20 Fortune 500 companies and project financiers, continue to rely on PowerLight to deliver on their renewable energy commitments."
To learn more about the proven solar performance offered by PowerLight, please attend our customer-specific sessions at Solar Power 2006 in San Jose:
Innovations with Performance Monitoring
Tuesday, Oct. 17, 1:30 - 3:00pm
Ben Compton of PowerLight participates.
Installations for Public and Corporate Buildings
Thursday, Oct. 19, 11:00am - 12:30pm
PowerLight president Dan Shugar moderates.
Solar on Residential New Construction
Thursday, Oct. 19, 2:00 - 3:30pm
Bill Kelly of PowerLight participates.
And please visit PowerLight booth #427 at Solar Power 2006 Conference and Exhibition at the San Jose Convention Center.
About PowerLight
PowerLight Corporation is the leading global provider of large-scale solar power systems, delivering unmatched experience and proven financial performance to commercial, public sector, utility and residential customers. Since 1995, PowerLight's industry-leading products, technologies and services have enabled our customers to maximize clean energy output along with project savings. Today, PowerLight designs, deploys and operates the largest solar power systems in the world through market-leading innovation and exceptional customer service. For more information, please visit www.powerlight.com.
Featured Product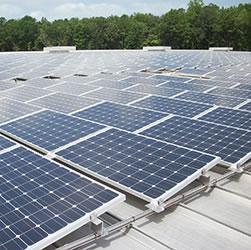 The Power Rail™ Commercial Mounting System is designed with the professional PV solar installer in mind. Both the XD/UD and LD/MD rails feature single tool assembly with the revolutionary patented RAD™ Lock-in-Place bolt for fast and secure module clamping. The high strength marine-grade aluminum rails include an integral wiring channel for securing cables and providing a professional finish.