Xantrex Technology Inc. announced today that its solar inverters were chosen by GeoGenix LLC, a New Jersey-based energy systems integrator, that transformed a 41,500 sq ft shop and office facility for Ferreira Construction Company into a high-performance "Net Zero Electric" building.
Landmark renewable energy system powers construction company headquarters and sells surplus electricity back to the utility grid

VANCOUVER, B.C., October 19, 2006 - Xantrex Technology Inc. (TSX:XTX) announced today that its solar inverters were chosen by GeoGenix LLC, a New Jersey-based energy systems integrator, for a project that transformed a 41,500 sq ft shop and office facility for Ferreira Construction Company (Ferreira) into a high-performance "Net Zero Electric" building.
Xantrex supplied two 100 kilowatt PV Series commercial inverters, key system components that convert DC power, produced by solar panels covering Ferreira's rooftop, to clean, efficient, sustainable AC power to enable full functionality of the building's electrical and HVAC systems while providing a positive return on Ferreira's investment.
Ferreira will save approximately 30,700 therms and 245,000 kWh per year - a 65 percent reduction due to the energy efficient design and renewable energy equipment that is installed, making it the first "Net Zero Electric" new commercial building in the eastern USA. This reduction in energy purchased by Ferreira comes at a time when electrical energy rates have risen approximately 10 percent, according to the U.S. Energy Information Administration.
"Even during times of peak energy demand, such as the record-setting heat wave that swept the Northeast in late July, the energy produced at the Ferreira building exceeded the company's real-time power requirements to function at optimum levels," said Gaurav A. Naik, Director, at GeoGenix LLC. "Additionally, the system supplied enough power back to the utility grid to offset the peak electricity demands of 20 average New Jersey homes. With Xantrex inverters providing 100 percent availability, we were able to exceed Zero Energy standards."
The U.S. Department of Energy's Zero Energy initiative combines energy-efficient construction and appliances with commercially available renewable energy systems such as solar electricity to result in net-zero energy consumption. A Zero Energy Building is connected to the utility grid, but is designed and built to produce as much energy as it consumes on an annual basis. With its reduced energy requirements and renewable energy systems, the Ferreira building provides slightly more electricity to the grid than it uses annually.
"We are proud to be a part of this groundbreaking project," said Xantrex CEO John Wallace. "Xantrex is a leader in enabling companies to work toward energy self-sufficiency. Facilities like the Ferreira building showcase how sustainable practices can be put into action and provide a positive net economic benefit to companies willing to invest in these technologies."
The entire rooftop of the new Ferreira building contains photovoltaic solar panels, rated at 223,300 DC Watts. The building also features solar thermal domestic hot water, full radiant heat, high efficiency rooftop units, a condensing boiler plant, and integrated web-based building controls. The building's monitoring system can be viewed by the public on the Web, to promote energy conservation and renewable energy, by illustrating the real-time operation and energy savings of these integrated systems.
To view Ferreira's solar monitoring system and energy savings in real-time, please visit:
http://206.137.21.166/Xantrex/sunclock/
http://206.137.21.166/Xantrex/energyprojection/
For more information on Xantrex PV Series inverters, please visit www.xantrex.com/web/id/11/p/1/pt/23/product.asp
About Xantrex
Xantrex Technology Inc. (www.xantrex.com) is a world leader in the development, manufacturing and marketing of advanced power electronic products and systems for the renewable, portable, mobile, and programmable power markets. The company's products convert and control raw electrical power from any central, distributed, renewable, or backup power source into high-quality power required by electronic and electrical equipment. Headquartered in Vancouver, British Columbia, the company has facilities in Arlington, Washington; Livermore, California; Elkhart, Indiana; Barcelona, Spain; and Reading, England. Xantrex is publicly listed on the Toronto Stock Exchange under the ticker symbol "XTX".
Note that this news release contains forward-looking statements related to Xantrex Technology Inc. Such statements reflect the current views of Xantrex with respect to future events and are subject to risks and uncertainties that could cause actual results to differ materially from those contemplated in these forward-looking statements.
About GeoGenix
GeoGenix LLC (www.geogenix.com) is a full-service energy systems integrator serving the residential, commercial and institutional markets since 1980. The company's vision involves a "Net Zero Energy" goal in all buildings. GeoGenix employs a "Total Energy Approach'", including advanced building envelope review techniques, reduction of energy consumption through energy efficiency, and green building design and construction practices. Passive solar, high-performance wall systems, radiant loop systems and high-efficiency heat pumps are used to generate electricity and provide heat and hot water for buildings. Headquartered in Rumson, New Jersey, The GeoGenix team has over 80 years of engineering expertise and offers a turnkey solution by performing all site assessment, design and installation functions, in addition to providing assistance in securing financing.
For further information, please contact:
Kimberly Kupiecki
650-762-2825
kkupiecki@ar-edelman.com
Bob Neudecker
604-422-2589
bob.neudecker@xantrex.com
Featured Product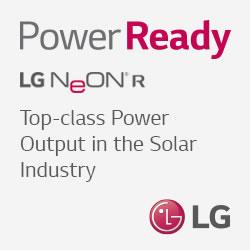 The NeON R module features "Back Contact" cell technology delivering an entirely black panel that is aesthetically pleasing and energy efficient. The cell's seamless, surface blends perfectly into nearly all rooftop designs while the module's electrodes are positioned on the rear of the cell. Using LG's N-type cell structure, the panels produce 365W of energy, up to 7.3kWp, compared to 5.8kWp of the p-type cell. The module's new design minimizes LID, thereby delivering a longer lifespan and increased energy output.