Underwrites Laboratory meeting will be held next week to work out details regarding certification of E85 equipment.
The issue of Underwriters Laboratory (UL) certification of E85 dispensing equipment has been a major concern to ethanol advocates since the release of an October 5, 2006 memo from UL. This memo "rescinded" previously certified E85 equipment. Since that time, several local Fire Marshals have shut down public E85 fueling stations based on the fact that no UL certified equipment now exists. You can review the October 5 memo at http://www.ul.com/gasandoil/ethanol.html.

Staff and members of the NEVC have been working with UL, local, state and federal officials to address this important matter. According to the NEVC and at their request, UL has issued a follow up document that should serve to assuage most concerns that have been voiced by local Fire Marshals and others with jurisdiction. The follow up UL memorandums may be found at http://www.ul.com/regulators/e85.cfm and http://www.ul.com/regulators/e85faq.cfm.
Essentially, the updated UL statements indicate that there have been:
No documented reports of corrosion for UL listed or recognized components used with E85
No field incidents related to UL listed or recognized components used with E85
No reported safety issues associated with listed or recognized components used with E85
In another statement in support of existing E85 fueling equipment, today the Minnesota State Fire Marshal issued a complimentary statement regarding the continued use of E85 dispensing equipment. A copy of that memo can be found at http://www.e85fuel.com/news/102706_ul_release/mn_ul_memo.pdf.
"It's unfortunate that this storm of confusion has resulted in a number of closures of existing E85 fueling stations and the delay in openings of others. The UL October 5 announcement inadvertently established a level of doubt in the minds of fire and safety officials regarding the safety of existing E85 dispensing equipment," stated Phil Lampert, Executive Director of the NEVC. "We have personally met with the Director of Government Affairs for UL and have had daily conversations with senior UL management. We believe that much of the current confusion has been addressed with the subsequent UL E85 update announcements. Our management and staff are working very closely with UL officials and will be attending a technical meeting to discuss this matter. We are confident that UL is aggressively addressing this matter and are working with them to establish proper certification standards."
Lampert went on, "Of most importance to the NEVC is that the E85 infrastructure continue to grow and that we install equipment that has been closely and robustly engineered to ensure years of safe and effective service. We all agree on this goal and are working with UL and our partners to meet that objective."
To date there are 1,030 E85 fueling locations throughout the U.S. For a complete listing, visit www.e85refueling.com.
Featured Product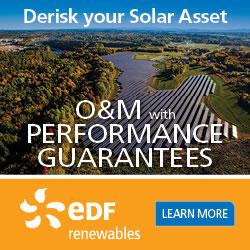 EDF Renewables offers the same innovative solutions that maximize the performance of our own 5.2 GW of installed projects. Because we're not an equipment manufacturer, our recommendations are transparent and data-driven. We cover the entire project lifecycle: from pre-commissioning support, through warranty and post warranty operation, to late stage and decommissioning.