Robert Green, an American Inventor, has developed a brand new technology which generates kinetic energy through the conversion of waste heat (as well as many other fuel sources). The Green Steam Engine is piston powered and designed for a wide assortment of practical applications.
These steam engines are easy to build and can be used to power boats, electricity generators, air or water pumps, water distillers, heat pumps, air conditioners and a wide array of other small to medium sized appliances. How-To Plans and Components can be ordered directly through the Green Steam Engine website.

One of the more unique advantages of the engine is its ability to generate energy from the waste heat of engines. Essentially, waste exhaust heat from a vehicle engine can be converted into energy used to some of the vehicle's cooling systems and pumps. The design is lightweight, small and quiet - making it perfect for many small space situations. This green engine will boost the efficiency levels of any vehicle or machine system it is installed on.
The revolutionary new patented design converts reciprocating movement into rotary movement, greatly streamlining the piston design and allowing for more versatility and project flexibility. There are limitless possibilities and advantages for clean steam power. Some of the main advantages are: less air and noise pollution, high torque at low speeds, multiple fuel capabilities, and long life with low maintenance.
This engine may be made in a variety of configurations and sizes. For example, one can change piston size and stroke length in a matter of a couple of minutes. One cylinder may be substituted for an air pump cylinder to provide air or water pumping. It can have one or a plurality of cylinders without increasing the number of bearings.
Featured Product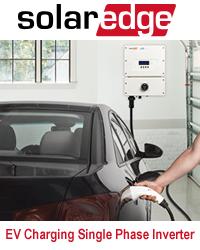 The SolarEdge PV inverter combines sophisticated digital control technology with efficient power conversion architecture to achieve superior solar power harvesting and best-in-class reliability. The fixed-voltage technology ensures the solar inverter is always working at its optimal input voltage over a wider range of string lengths and regardless of environmental conditions. A proprietary data monitoring receiver has been integrated into the inverter and aggregates the power optimizer performance data from each PV module. This data can be transmitted to the web and accessed via the SolarEdge Monitoring Portal for performance analysis, fault detection and troubleshooting of PV systems.