Log on to save pounds not pence
Log on to save pounds not pence

energyproject.com launches to help households beat the cold
As the weather gets colder leading pump manufacturer Grundfos has launched a new website www.energyproject.com to help households save money, be warmer this winter and save the planet. Beating the cold this winter will be easier with this simple website that provides advice on energy efficient domestic circulator pumps, the heart of the central heating system.
The energyproject.com is supported by up and coming Danish actress, Beate Bille, who guides web users through product selections, downloadable information packs and a competition to win a satellite navigation system.
Diane Willis at Grundfos, which are behind energyproject.com, commented: "EnergyProject.com is here to help households understand how they can save pounds on their energy bill, reduce the energy they use and still be warm this winter. The website is designed to help households make an informed choice and highlight the importance of being energy efficient."
Above the money that can be saved, households have an increased responsibility to consider their environmental impact. Home energy use is responsible for more than a quarter of the total UK CO2 emissions. When used at home, one unit of electricity* is typically responsible for the release of over twice as much CO2 as one unit of gas. From 2007** all homes that are put on the market must have an Energy Performance Certificate that rates the property in terms of energy efficiency and environmental impact. The certificate will use an A to G scale like the one currently displayed on household appliances.
Energy labelling for circulator pumps, found in central heating systems, has recently been introduced by the European Union. This means households can now purchase A energy rated pumps in the same way you purchase A-rated fridges, washing machines and ovens. 15% of energy used by the average household is down to the circulator pump in the central heating system. By upgrading the pump homes will be able to save 10% of their total energy use.
* Excluding electricity generated from renewable sources.
** England and Wales only. Alternative arrangements may exist in Scotland and Northern Ireland.
Featured Product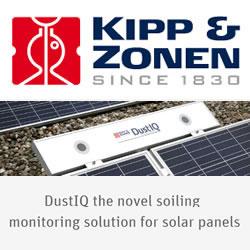 Soiling of the panel glass is one of the major problems in the rapidly expanding solar energy market, with the attendant loss of efficiency and reduction in performance ratios. Now, there's a new, simple and very cost-effective alternative. Based on Kipp & Zonen's unique Optical Soiling Measurement (OSM) technology, DustIQ can be easily added to new or existing solar arrays and integrated into plant management systems. The unit is mounted to the frame of a PV panel and does not need sunlight to operate. It continuously measures the transmission loss through glass caused by soiling, so that the reduction in light reaching the solar cells can be calculated.