The High Voltage Testing Laboratory at Hebburn based New and Renewable Energy Centre has secured a three-year testing contract for National Grid substation equipment. The deal coincides with confirmed plans for the Centre to house the UK's High Voltage Reference Measurement Standards.
NaREC hosts the UK's only commercial high voltage testing laboratory, capable of carrying out comprehensive testing and analysis services for Transmission Network operators, Distribution Network Operators and manufacturers of electrical power equipment and accessories.

The contract, expected to occupy up to 20% of NaREC's high voltage testing schedule, will enable National Grid to carry out testing and performance analysis for substation equipment to ensure reliability in operation.
Lisa Pinnington, Contract Manager at National Grid explains, "This is one of National Grid's key specialist outsourced contracts and will provide high voltage testing and calibration services for our substation equipment. The contract will enable us to find potential equipment faults before they occur, and to apply real site conditions or over-stress equipment in a safe, controlled and measured environment, playing a vital role in helping us maintain a safe and reliable transmission system.
We look forward to working with NaREC over the course of this contract and hope to develop a successful and mutually beneficial relationship over the coming years, using their knowledge and expertise to drive service improvements and provide analysis and support that we can rely on."
NaREC has also commissioned a brand-new calibration laboratory to expand the scope of the high voltage calibration services offered, in order to meet wider market requirements. This investment means NaREC will become the guardian of the UK High Voltage Reference Measurement Standards, a role formerly held by the National Physics Laboratory in London.
"Both of these achievements will add to NaREC's growing profile as a key international player in high voltage engineering. Being UK based with a long history of high voltage testing at our former VA TECH Reyrolle Laboratories, we are well placed to meet the changing needs of electrical transmission worldwide." Andrew Mill, Chief Executive of NaREC.
Featured Product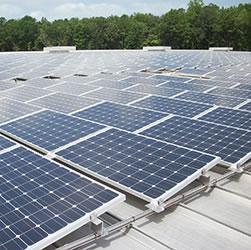 The Power Rail™ Commercial Mounting System is designed with the professional PV solar installer in mind. Both the XD/UD and LD/MD rails feature single tool assembly with the revolutionary patented RAD™ Lock-in-Place bolt for fast and secure module clamping. The high strength marine-grade aluminum rails include an integral wiring channel for securing cables and providing a professional finish.