-5+ Megawatt project positions company for growth -
Calgary, Alberta, Canada - November 7, 2006 - Sustainable Energy Technologies Ltd. ("Sustainable Energy"-TSXV:"STG") is pleased to announce that it has begun shipping its flagship "SUNERGY" inverter under a previously announced (July 1, 2006 press release) supply contract with one of Europe's leading solar module manufacturers.

"This is an important project for Sustainable Energy." reports Mr. Michael Carten, President and CEO of the Company. "We are now into production of the SUNERGY inverter in higher volumes, and positioned for growth in revenues from this and other solar power markets. Sales revenues for the current quarter will range between $300,000 and $500,000, depending largely on year-end logistical considerations" he added.
Each SUNERGY inverter operates with a solar tracker carrying 4 - 5 kilowatts of solar modules. Solar trackers are used extensively in Spain to increase the energy yield from the modules by as much as 40% - 50%. According to a report released earlier this year by Solar Plaza, a leading European solar trade journal, more than 125 MW of solar tracker projects have been, or are being contracted through 2008, making it the most important solar market segment in Spain.
Because of its innovative approach to power conversion the SUNERGY inverter has a clear competitive advantage in this application." added Mr. Carten. "Unlike competitor products, which must reduce power in hot weather in order to protect sensitive electronics, the SUNERGY operates at full power throughout the day at temperatures in excess of 50 degrees Celsius (122 degrees F.). This project is an excellent opportunity to showcase the superior thermal performance of our design and to gain market share in Spain and other hot weather markets.
About Sustainable Energy
Based in Calgary Alberta, Sustainable Energy (www.sustainableenergy.com) develops, manufactures and markets advanced power inverters for the renewable energy industry. Power inverters are strategic to the integration of new renewable energy technologies - solar and wind power, fuel cells, and energy storage systems - into the high quality power demands of the modern electrical grid.
Certain Statements contained in this release may be considered as forward looking. Such forward looking statements are subject to risks and uncertainty that could cause actual results to differ materially from estimated or implied results.
The TSX Venture Exchange does not accept responsibility for the adequacy or accuracy of this release.
For further info please contact:
Michael Carten
President and CEO
Michael.carten@sustainableenergy.com
PH: 403-508-7177 Ext 111
Featured Product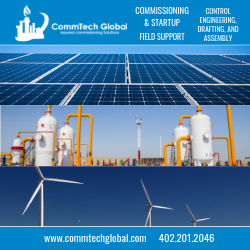 CommTech Global Solutions, LLC, provides professional and reliable commissioning services to customers in all realms of the energy industry. We blend our skills in engineering and technology with innovative business models, offering a complete range of services to assist you for a successful and in compliance operational startup. Consolidation of all our service domains gives our clients a comprehensive set of expertise and far-reaching experience on each project.