Last year Minnesota Governor Tim Pawlenty (R) signed into law legislation that will move the state to a 20 percent ethanol standard by 2013.
In order to meet the 20 percent standard, the state plans to increase the use of E85, a fuel containing 85% ethanol and 15% gasoline. Part of the state's plan to increase ethanol usage is to make E85 conversion kits available to the general public.

Until recently, only vehicles designated by the manufacturer as "flexible-fuel" could use E85. However, a Brazilian technology called FlexTek now allows E85 to be used as a fuel in most modern fuel injected engines. FlexTek is US patent-pending, and owned by XcelPlus Global Holdings, Inc. (Pink Sheets: XPGH) . Minnesota State University, Mankato Center for Automotive Research (MnCAR) will be conducting research on FlexTek conversion kits.
In a formal letter requesting the EPA to allow Minnesota to be a test state for E85 fuel conversion kits, Governor Pawlenty noted that FlexTek was developed in Brazil and is currently used by more 50,000 vehicles there. Brian McClung, director of communications for the Governor's office stated "Certainly, using E85 conversion kits would be a great tool to help us meet that (20% E85) goal."
In an October 2006 article in Ethanol Producer Magazine (http://www.ethanolproducer.com), McClung said that expanding E85 use and stations in Minnesota has been challenging because both car companies and oil companies currently require greater demand by consumers before they are willing to make E85 more available. " The governor has proposed testing the E85 conversion kits as a way to break through the chicken and egg dilemma," McClung said, noting that Brazil was able to transition to greater ethanol use by using conversion kits.
FlexTek has been the subject of NBC and FOX affiliate newscasts. According to Bill R. Smith, President of XcelPlus Global Holdings, Inc. " We are very excited at the political support and media attention our products are now getting as we pursue EPA certification.
XcelPlus Global Holdings markets its technologies through strategic trading partners including XcelPlus International Inc (Other OTC:XLPI.PK - News) which manufactures and markets the Flextek, as well as a line of automobile alternative fuel and chemical products.
About XcelPlus Global Holdings:
XcelPlus Global Holdings Inc. owns and controls cutting edge technologies which enable the growth of the ethanol market, while providing consumers with a viable means of using newly developed clean energy technologies.
Safe Harbor Statement under the Private Securities Litigation Reform Act of 1995: Except for historical information, the forward-looking matters discussed in this news release are subject to certain risks and uncertainties which could cause the Company's actual results and financial condition to differ materially from those anticipated by the forward-looking statements including, but not limited to, the Company's liquidity and the ability to obtain financing, the timing of regulatory approvals, uncertainties related to corporate partners or third-parties, product liability, the dependence on third parties for manufacturing and marketing, patent risk, copyright risk, competition, and the early stage of products being marketed or under development, as well as other risks indicated from time to time in the Company's filings with the Securities and Exchange Commission. The Company assumes no obligation to update or supplement forward-looking statements that become untrue because of subsequent events.
Featured Product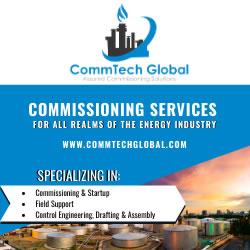 CommTech Global Solutions, LLC, provides professional and reliable commissioning services to customers in all realms of the energy industry. We blend our skills in engineering and technology with innovative business models, offering a complete range of services to assist you for a successful and in compliance operational startup. Consolidation of all our service domains gives our clients a comprehensive set of expertise and far-reaching experience on each project.