Maxwell to Educate Attendees of Electric Drive Transportation Association on Building Sustainability into Heavy Duty Vehicles
ATTENTION: TECHNOLOGY REPORTERS, NEWS DIRECTORS, ASSIGNMENT EDITORS
Maxwell to Educate Attendees of Electric Drive Transportation Association on Building Sustainability into Heavy Duty Vehicles
Who and What
Bobby Maher, Director of Business Development for Maxwell Technologies' ultracapacitor product line, will provide an overview of how ultracapacitors are suited to support heavy duty vehicles to ensure maximum sustainability.
His speech, titled "Ultracapacitors in the Heavy and Medium Duty Market" will:
Describe how ultracapacitors can provide an easy-to-integrate building block for scalable energy storage and power delivery solutions for heavy hybrid and electric vehicles and heavy duty industrial applications requiring up to 1,500 volts
Provide an overview on what makes ultracapacitors ideally suited to support heavy duty electric vehicles.
When and Where
Electric Drive Transportation Association (EDTA) Conference and Exposition
Nov. 29, 2006
3:30 p.m. to 5 p.m.
Hyatt Regency on Capital Hill, Washington DC
Why
As Officials in Washington are looking for policies to reduce U.S. dependencies on oil, EDTA will showcase presentations that discuss the many benefits that would be brought to society with the increased use of electric vehicles. The public will be able to participate in events such as the ride & drive which will be held on Nov. 28 from 10 a.m. to 2 p.m., as a way to educate themselves on this advancing technology.
Mr. Maher will discuss the benefits of ultracapacitors and how they incorporate proprietary balancing, monitoring and thermal management capabilities to ensure industry-leading charge/discharge performance, high reliability and long operational life.
He will discuss how high-performance ultracapacitors modules are designed to satisfy rapidly growing global demand for braking energy recuperation and torque assist systems for hybrid bus and truck drive trains and electric rail vehicles.
About Bobby Maher
Bobby Maher is the Director of Business Development at Maxwell Technologies. He has been with Maxwell for over eight years, beginning his career with the company in the Product Development division working on developing advanced ultracapacitors systems and modules. Before joining Maxwell, Mr. Maher's experience included seven years as project engineer for Cubic Corporation. In this capacity he had direct responsibility for the system level design and coordination of all hardware used in several multi-million dollar projects in the transportation sector. Mr. Maher has an MBA, and also holds a Bachelor of Science in Electrical Engineering from the University of California, San Diego.
About Maxwell Technologies
Maxwell Technologies is a leading developer and manufacturer of innovative, cost-effective energy storage and power delivery solutions. Our CONDIS® high-voltage grading and coupling capacitors help to ensure the safety and reliability of electric utility infrastructure and other applications involving transport, distribution and measurement of high-voltage electrical energy. Our BOOSTCAP® ultracapacitor cells and multi-cell modules and POWERCACHE® backup power systems provide safe and reliable power solutions for applications in consumer and industrial electronics, transportation and telecommunications. Our radiation-mitigated microelectronic products include power modules, memory modules and single board computers that incorporate powerful commercial silicon for superior performance and high reliability in aerospace applications. For more information, please visit our website: www.maxwell.com.
For more information contact:
Mike Sund Bonnie Anderson/Jessica Devaney
Maxwell Technologies Bell Pottinger USA
VP, Communications and Investor Relations (617) 210-4755
(858) 503-3233 banderson@bellpottingerusa.com
msund@maxwell.com jdevaney@bellpottingerusa.com
Featured Product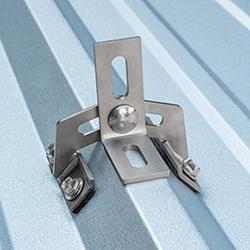 QuickBOLT Low Profile QuickBOLT with Microflashing™ is the industry's affordable, UL Certified Asphalt Shingle mounting system. The Microflashing™ is compressed by the collar on the bolt to create a water-tight seal. With an installation time of less than one minute, the Low Profile QuickBOLT allows installers to complete more jobs.