A national association that promotes a leading renewable energy technology will cease its operations, effective immediately.
A national association that promotes a leading renewable energy technology will cease its operations, effective immediately.

The Earth Energy Society of Canada (formerly Canadian Earth Energy Association) was formed in 1989 to promote ground-source / geothermal heat pumps. It administered a $20 million program during the 1990s, as the industry installed 38,000 systems across the country.
Geothermal systems heat buildings by transferring absorbed solar energy from the ground; in summer, the process is reversed to provide space cooling. The technology currently provides the thermal equivalent of 600 million kWh a year in Canada, and displaces the emission of 250,000 tonne of GHG. A report by the David Suzuki Foundation estimates that installation of geothermal in a percentage of new homes in Ontario, would create 51,000 jobs and avoid combustion of 1 billion m3 of natural gas by 2020.
EESC has been forced to stop its promotional activities as a result of a law suit that alleges improper use of domains with 'geo-exchange' in the name. The claim in federal court says EESC, the Canadian Association for Renewable Energies and executive director Bill Eggertson (personally) violated the term 'geoexchange,' a U.S. trademark.
"We offered to transfer ownership of the domains to the plaintiff for free, if they had dropped the case before lawyers got involved," says Eggertson. "They refused, and the legal fees have drained our reserves."
Geothermal heat pumps will remain represented in the Green Heat Global partnership through the GeoCanada and EcoHeat initiatives, and C.A.R.E. will track the millions of dollars in federal spending for geothermal that is no longer directed to the domestic industry.
For information:
Bill Eggertson, (613) 371-EESC (371-3372)
http://GreenHeat.org
http://GeoCanada.org
http://EcoHeat.org
Featured Product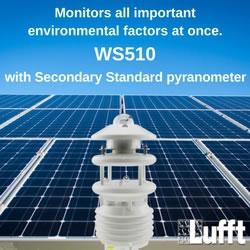 Professional weather sensors form the heart of large solar plants supporting their operation and performance. Lufft was the first manufacturer to combine several sensors in one housing, bringing the largest multiparameter weather sensor family with 19 members into being. Many of them are well-suited for solar site assessment and continuous monitoring. The most commonly used one is the WS600 delivering data on temperature, air pressure, wind, relative humidity and precipitation. Through its open protocol, it can easily be attached to radiation sensors e.g. from Kipp&Zonen. Other models have an integrated Silicon, Second Class or Secondary Standard radiation sensor.