High energy costs need not dim your holiday cheer. Energy-efficiency holiday tips from the Alliance to Save Energy can help take the "chill" out of the holiday season by lowering home energy bills, pollution, and greenhouse gas emissions - and even spark some gift ideas.
Washington, DC, December 2006 - High energy costs need not dim your holiday cheer, as winter weather settles in around the nation. Energy-efficiency holiday tips from the Alliance to Save Energy can help take the "chill" out of the holiday season by lowering home energy bills, pollution, and greenhouse gas emissions - and even spark some gift ideas.

∑ Keep the twinkle, but lower the costs, with LED holiday lights. Each LED (light-emitting diode) bulb with this new technology uses only 0.04 watts and is up to 90 percent more efficient than its incandescent counterpart. So a household burning 10 strands of lights with 100 lights per strand, eight hours a day for a month, would spend almost $175 for large, incandescent bulbs, about $11 for traditional mini-lights, and just over $1 for LEDs (based on $0.1003 per kilowatt-hour). These newer bulbs are sturdy, can last more than 50,000 hours, or 20 years, and barely warm up, eliminating fire concerns.
∑ To maximize holiday lighting savings, use timers to limit light displays to no more than six evening hours a day. Leaving lights on 24 hours a day will quadruple your energy costs - and create four times the pollution. And be safe - Untended lights can cause fires, so always unplug your interior holiday lights before going to bed or leaving the house.
∑ Make a New Year's resolution that's good for your pocketbook and the environment. Get started on those energy-efficiency home improvements you've been putting off for too long, and save on your federal income taxes as well as your energy bills. Details on valuable federal income tax credits for energy-efficiency upgrades to your home, available in tax years 2006 and 2007, are at www.ase.org/taxcredits.
∑ Take the 6° of Energy Efficiency Challenge at www.sixdegreechallenge.org to test your energy IQ; learn how energy use and energy waste affects six key aspects of your life; pledge up to six energy-efficiency steps to help your family, community, nation, and the planet; challenge six friends to save money, and pollute less, too; and get a discount coupon on an energy-efficient product.
∑ Decorate with "ENERGY STARS." Appliances and electronics with the Energy Star label - the government's symbol of energy efficiency - can cut related home energy bills up to 30 percent and make great holiday gifts. Use the savings to jump-start your children's piggy bank accounts.
∑ In the spirit of Kwanzaa - the African-American spiritual week of remembering, reassessing, recommitting, and rejoicing -reassess your power consumption, recommit to energy-efficient practices, and rejoice in the savings.
∑ Pay the local kids to shovel your driveway. Better to give them some extra spending money than to use it towards the purchase of a smog-producing, gas-guzzling snow blower.
∑ No roasting chestnuts over an open halogen torchiere! It can burn hot enough to cause a fire, according to the U.S. Consumer Product Safety Commission. Instead, give yourself the gift of an energy-efficient ENERGY STAR-labeled torchiere lamp, for a brighter, thriftier, safer holiday.
∑ Once you've lit the Chanukah menorah, use a dimmer switch to lower the lights. By the eighth night, you may not need any electric lights at all! And spin a dreidel - it uses no energy!
∑ Strap on those cross-country skies or roller blades or ride your bike to tour the neighborhood holiday decorations. It's a great way to work off those extra holiday calories, and it will cut down on your gasoline costs, too.
∑ Unplug the video games and turn off the millionth broadcast of It's a Wonderful Life - and read your favorite holiday story instead. Your children may appreciate your attention and time, and you will be saving energy in the process.
∑ Instead of leaving your door open to carolers and losing all that precious heat, pull on your parka and join in the fun. It's a great way to meet your neighbors, too!
∑ Give your family the extra gift of your time - while energy-efficient products and technologies do the work for you - reducing home energy and water bills and needless air pollution and increasing comfort day after day.
∑ Get a free copy of the Alliance's informative consumer booklet, Power$mart: The Power is in Your Hands which is also available by calling 1-888-878-3256.
Additional year-round, energy-efficiency tips and numerous resources can be found on the Alliance's consumer web site, www.ase.org/consumers.
~~~~~
The Alliance to Save Energy is a coalition of prominent business, government, environmental, and consumer leaders who promote the efficient and clean use of energy worldwide to benefit consumers, the environment, economy, and national security.
Featured Product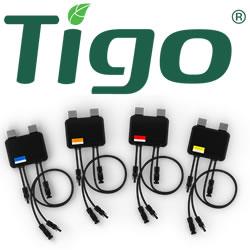 Tigo will announce the new product launch of the patented UHD-Core TS4-A (Advanced Retrofit/Add-on) Platform at SPI 2019. The new TS4-A-M (Monitoring) & TS4-A-S (Safety) units have improved lightweight hardware and lower labor costs to address a range of functions and budgets. The TS4-A-M allows module-level monitoring via Tigo's SMART Website & App. The TS4-A-S is UL-certified as a rapid shutdown solution for residential and C&I PV system. Both units join the Tigo's multivendor solution that works with almost any inverter and smart module in the global PV market. Contact sales@tigoenergy.com for pricing, shipping, and availability in Q4'19.