The Solar Center is now offering solar energy systems and energy efficiency products and services to Price Energy Customers
For Immediate Release

Contact: Dennis Wilson, CEO
973-366-2244
dennis@thesolarcenter.com
The Solar Center, Inc. Inks Marketing Agreement with Price Energy to provide Solar Systems and Energy Efficiency Services
The Solar Center, Inc. (TSC) announced today that it has entered into a multi-year agreement to deliver solar energy systems and energy efficiency products and services to Price Energy customers. Price Energy supplies heating oil at competitive prices to over 40,000 customers from Maine to Virginia.
Dennis Wilson, CEO of TSC said, "This marketing agreement gives us access to oil heat customers who have demonstrated their interest in controlling their energy expenditures. TSC will roll out its offerings of solar hot water systems, solar electric systems and other energy efficiency products and services based on energy costs and state and local incentives. At the present time each state has different incentives for renewable energy, and electric rates vary significantly. Offerings in select markets are expected to launch in the first quarter of 2007."
Wilson went on to say, "The voters acknowledged on November 7th that the United States needs to increase its energy independence and reduce our energy price risk. The Solar Center is focused on building the marketing, engineering and delivery systems needed to rapidly and efficiently scale its delivery of renewable and efficiency products and services. By teaming with Price Energy we will be able to more efficiently scale our growth while entering new regional markets, capitalizing on the customer internet link already established by Price Energy with its customers".
The Solar Center, Inc., is a leading solar energy integrator headquartered in Denville, New Jersey and designs and installs solar electric and solar thermal systems for its residential and commercial customers in New Jersey and New York. Dennis Wilson, the company's President, has been developing cogeneration, energy efficiency and solar energy projects since the late 1970s.
Price Energy delivers oil heating products to more than 40,000 residential and commercial customers on the East Coast using a combination of internet, telephone and traditional marketing methods.
Featured Product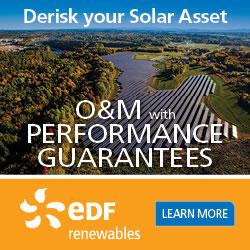 EDF Renewables offers the same innovative solutions that maximize the performance of our own 5.2 GW of installed projects. Because we're not an equipment manufacturer, our recommendations are transparent and data-driven. We cover the entire project lifecycle: from pre-commissioning support, through warranty and post warranty operation, to late stage and decommissioning.