SolarWorks NJ completes 1st large scale solar installation on Affordable Housing Project In Newark, NJ.
SolarWorks NJ has just completed work on Newark, NJ's largest solar energy system. This $600,000, 80 kW system is built on a multi - unit affordable housing building known as Springfield Commons. The site at 302-310 16th street is the brainchild of RPM Development Group, a Montclair, NJ based company. According to Steve Masapollo, CEO of SolarWorks NJ "Not only is this the largest system ever done in Newark. It is also the first in cooperation with the NJ Housing Finance & Mortgage Agency. This represents a significant step forward in the effort to make NJ the leader in solar applications in general but also the affordable housing market. We are very proud to be a part of this effort".

The NJ BPU through its Clean Energy Program contributed funds to the project. "Without the efforts of the NJ BPU this project would not be possible," said Masapollo.
The Department of Community Affairs and the New Jersey Housing and Mortgage Finance Agency recently presented RPM Development an award for Outstanding Affordable Housing Development for the Belvidere Village Housing project. This project is located in the Canal Banks Redevelopment area of Trenton, NJ and includes 18 new construction units along with the rehabilitation of 19 formerly dilapidated structures.
Masapollo added "We are extremely proud to be associated with RPM Development. RPM has won many prestigious awards and is a leader in the affordable housing market."
SolarWorks NJ has several other large affordable housing projects scheduled for 2007.
SWNJ also has a residential division and has offices located in Turnersville, Marlton and Denville, NJ. If you have any questions please feel free to contact us at 856 232 6363 or on the web at solarworksnj@comcast.net.
Featured Product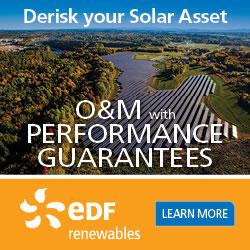 EDF Renewables offers the same innovative solutions that maximize the performance of our own 5.2 GW of installed projects. Because we're not an equipment manufacturer, our recommendations are transparent and data-driven. We cover the entire project lifecycle: from pre-commissioning support, through warranty and post warranty operation, to late stage and decommissioning.