Leading Clean Technology Venture Capital Fund Backs Innovative Manufacturer of Electrochemical Diagnostic Software and Instrumentation
San Francisco - December 13, 2006 - Expansion Capital Partners, LLC, a leading Clean Technology venture capital firm, announced a $5.4 million Series B investment into World Energy Labs (WEL), an electrochemical diagnostic software and instrumentation company serving global markets in energy and structural corrosion analysis. The investment was made by Clean Technology Fund II, LP, which is managed by Expansion Capital. World Energy Labs intends to use the capital to meet growing customer demand by expanding manufacturing, sales, marketing and technical application support.

World Energy Labs provides a diversified software and handheld instrumentation product line including the Interrogator' 4210 ElectroChemical Battery Analyzer, the 5210 Fuel Cell Analyzer - the world's only Handheld Fuel Cell Tester, the 7210 Structural Corrosion Analyzer and the 8210 Frequency Response Analyzer (FRA). The Interrogator' puts the power of a $50,000 benchtop FRA in the hands of deployed field technicians, at 1/10th the price with easy to use interfaces and analytical software tools.
The Interrogator' can be used for testing many electrochemical systems including, batteries, fuel cells, super capacitors and metal corrosion on ships, bridges and pipelines. The Interrogator' contributes to a cleaner, more reliable energy environment by enabling the confident deployment of new energy systems while simultaneously reducing service and maintenance costs and extending the useful life of critical energy infrastructure.
At the core of the Interrogator' capabilities is World Energy Labs' proprietary CEL-Scan' Technology. This is an advanced Chemical-Electrical-Layer Scan technology that combines the latest advances in frequency response analysis (FRA), advanced pattern recognition, electrochemical algorithm generation and high-speed signal processing to make the Interrogator' one of the most accurate, portable and cost effective test systems available.
"Our World Energy Labs investment is a perfect example of the differentiated investment strategy of Expansion Capital. We partner with, and invest in, expansion-stage enterprises that offer proven technological innovation, combined with rapidly growing customer adoption in large and expanding markets," said Mark Donohue, a General Partner of Expansion Capital who has joined the Board of World Energy Labs. "We see an exceptional opportunity to make backup power systems more reliable, reduce their maintenance costs, and extend the life-cycle of expensive, mission critical and environmentally hazardous batteries. World Energy Labs' technology will become increasingly important as the use of portable and installed batteries grows, such as with the rising adoption of hybrid cars, plus the growth of developing country economies, which greatly rely on backup power systems."
Sean Salloux, CEO of World Energy Labs stated: "Expansion Capital Partners is an empowering component of our strategic and tactical business planning. The firm's extensive network of relationships in our target markets, a long record of active engagement with their portfolio companies as well as their entrepreneurial management experience will be an invaluable advantage for our company as we work together to develop our business in the years to come. As we work to increase the size and scope of our sales and marketing operations while also expanding our manufacturing facilities, we will focus our efforts on industries that must reduce their risk of power failure; namely companies that work in the following markets: power utilities, telecommunications and uninterruptible power supply (UPS). This infusion of capital will enable WEL to expand on our proven record of success with a number of international industry leaders, including Duke Energy, Electricité de France (one of the largest power utility companies in the world), Verizon, MCI, British Telecom and Vodafone."
About Expansion Capital Partners, LLC
Founded in 2002, Expansion Capital invests venture capital exclusively in expansion-stage, Clean Technology enterprises. The firm targets companies that offer dramatic improvements in resource efficiency and productivity, while creating more economic value with less energy and materials, and/or less waste and toxicity. Clean Technology Fund II, LP, invests in U.S. and Canadian enterprises with current customer revenues of $2-$30 million, combined with solid prospects of attaining $30-$100 million in revenues within 3-5 years. The Fund makes initial investments of $2 million to $6 million, with its team taking active, value-add board roles. Expansion Capital has offices in San Francisco and New York. Further information can be found at www.expansioncapital.com or by calling Kjartan Jansen at Expansion Capital Partners, (415) 788-8825.
About World Energy Labs
Established in 1999, World Energy Labs is a global, electrochemical diagnostic software and instrumentation company with headquarters in San Francisco, California. Leading companies around the world are advancing their business in batteries, fuel cells and other electrochemical systems, through the benefits of the Interrogator' 4200, 5200, 6200, 7200 and 8200 series analyzers and software products with CEL-Scan' technology. Contact World Energy Labs or visit their website for further information (www.worldenergylabs.com)
Featured Product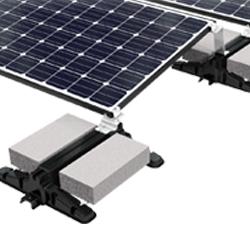 The Power Rail™ Commercial Mounting System is designed with the professional PV solar installer in mind. Both the XD/UD and LD/MD rails feature single tool assembly with the revolutionary patented RAD™ Lock-in-Place bolt for fast and secure module clamping. The high strength marine-grade aluminum rails include an integral wiring channel for securing cables and providing a professional finish.