Venture Makes Solar Company One of Nation's Leading Solar Energy Suppliers
December 12, 2006 -- WHITE RIVER JUNCTION, Vt. & GRANTS PASS, Ore.-- groSolar, a national solar energy firm, announced today that it has acquired Energy Outfitters, an Oregon-based solar energy distribution company. The acquisition makes groSolar one of the largest solar distribution and installation firms in the U.S., with additional offices in western and eastern Canada.

"This is a great day for groSolar and even a better day for those dedicated to mitigating global warming," groSolar CEO Jeff Wolfe said. "The combined assets and expertise of the two companies will enable us to put more solar on more roofs across the U.S. and Canada."
"We share the same values, mission and goals," said Bob Maynard, President of Energy Outfitters. "And the strategic fit is great because groSolar has strength in the northeast while Energy Outfitters has strong west coast and Canadian operations. We are very glad that Energy Outfitters is joining the outstanding groSolar team."
groSolar, based in White River Junction, Vermont, was founded in 1998, by Jeff and Dorothy Wolfe as Global Resource Options, and is dedicated to fostering personal and corporate energy independence and helping reverse global warming.
Energy Outfitters, of Grants Pass, Oregon; Calgary, Alberta and Barrie, Ontario, was owned by Maynard and Ray Ogden, who will remain actively involved with the business. For over 15 years, Energy Outfitters has been dedicated to growing the renewable energy industry.
Wolfe said the cultural fit between the two companies is seamless and should enable combined operations to move ahead without the typical integration delays. With five main points of distribution throughout North America, groSolar is now positioned to serve all customers in any market quickly and effectively. This wide base of operations makes groSolar the first true North American solar distributor. groSolar distributes solar hot water and solar air heating systems in addition to solar electric systems, providing a wider product base than other distributors.
According to Wolfe, groSolar will continue to use the Energy Outfitters brand in their existing market areas, slowly transitioning to the groSolar brand nationally. "Energy Outfitters customers will see a continuation of the strong service culture, which will grow even stronger as we incorporate groSolar's proven value added distribution expertise," Wolfe said.
About GRO
GRO is a national solar integration firm focused on designing, distributing and installing high quality energy systems. GRO distributes solar electric, solar hot water and air heating systems throughout North America from offices in VT, NJ, NY, MA, CO, OR, Alberta and Ontario. The company recently changed its name from Global Resource Options to GRO. GRO integrates components from leading solar manufacturers including Evergreen Solar, Suntech Power, Heliodyne, Outback, SMA, Magnetek, Gridpoint and UniRac into elegant solar energy systems for its customers that generate clean, reliable energy for decades. groSolar was also recently recognized as one of the best places to work in Vermont by Vermont Business Magazine. For information, contact Kevin Ellis 1-800-498-5390 or Sue Lewis at 1-800-374-4494. www.groSolar.com.
Featured Product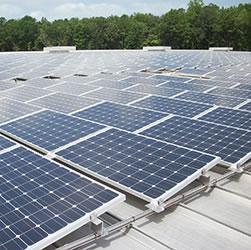 The Power Rail™ Commercial Mounting System is designed with the professional PV solar installer in mind. Both the XD/UD and LD/MD rails feature single tool assembly with the revolutionary patented RAD™ Lock-in-Place bolt for fast and secure module clamping. The high strength marine-grade aluminum rails include an integral wiring channel for securing cables and providing a professional finish.