ICP Solar and Coleman today announced the launch of the Coleman line of five remote solar chargers and an intelligent charge controller at the Consumer Electronics Show in Las Vegas.
MONTREAL, CANADA - January 10, 2007 - ICP Solar Technologies Inc. (OTCBB: ICPR), a developer, manufacturer and marketer of solar cells and products, and Coleman Products Inc, an international leader in innovating and marketing outdoor products, announced today at the Consumer Electronic Show (CES) in Las Vegas, the launch of the Coleman line of portable solar chargers, designed to provide backup or primary power for vehicles such as automobiles, boats, RVs and also for remote living applications.

ICP Solar will produce the line of chargers to meet the strict specifications of Coleman's products. The line includes five models for a range of applications, plus an intelligent charge controller to ensure batteries reach their maximum capacity. All of the chargers come with Plug'n'Play® for quick connections, a cigarette lighter adaptor and battery clamps for maximum convenience. They include a two-year warranty.
Through the new partnership with Coleman, The Outdoor Company®, ICP Solar accelerates its vision to deploy "the solar to go" approach to enhancing the lives of people in all settings, from outdoor recreation to at-home use.
"ICP Solar has an excellent track record of producing superior photovoltaic chargers, making our decision to pursue this partnership an easy one," said Peter Fox, Vice President of Licensing, Coleman. "Equally, ICP Solar is a leader in the move to accurately rate solar panels. Their products produce the rated output in real-world conditions, not artificial lab settings. We're certain that this line of products will provide highly reliable, environmentally sound power to all of our customers."
With nearly two decades of experience in the solar industry, ICP Solar is committed to developing solar products to bring increased convenience and enjoyment to people with a variety of needs. ICP Solar chargers provide reliable backup or primary power sources to meet the recreational needs of RV, automotive and boating customers. For the home, ICP Solar has designed highly reliable systems to provide power for remote cabins or primary homes.
"The Coleman name is synonymous with high-quality, innovative products and their decision to partner with ICP Solar is a strong validation of our commitment to the best, most convenient solar chargers," said Sass Peress, CEO, ICP Solar. "With the increased power consumption of electronic devices in modern vehicles and homes, our portable chargers provide a simple, environmentally sound way for people to ensure the enjoyment of all their daily activities."
Coleman is a wholly-owned subsidiary of Jarden Corporation, a publicly listed company on the New York Stock Exchange (NYSE: JAH).
About Coleman
The Coleman Company, Inc. is an international leader in the innovation and marketing of outdoor products, including its legendary lanterns, as well as stoves, tents, sleeping bags, backpacks, coolers, furniture and grills. Its products are sold and used all over the world. Coleman embraces its leadership role as an advocate for the outdoors, contributing to outdoor causes and inspiring people to get outside. Founded in 1900 and based in Wichita, Kan., Coleman is a wholly owned subsidiary of Jarden Corporation, and can be found online at www.coleman.com. Consumers can contact Coleman by phone at 800-835-3278 or by e-mail at consumerservice@coleman.com.
About ICP Solar
ICP Solar is a developer, manufacturer and marketer of solar cells and solar cell based products and building materials. Through the application of next-generation technologies and use of proprietary intellectual design, the Company aims to be the industry's innovation leader. For the past 18 years ICP Solar has led the consumer market through innovation and has now begun to apply that same philosophy to the OEM, rooftop and power generation segments of the solar industry.
ICP Solar's management has over 50 years of experience in the solar energy sector. The company currently counts over 55 team members, with headquarters located in Montreal, Canada, and additional locations in the United Kingdom, Spain, USA, Ireland and France. Corporate information may be found at www.icpsolar.com.
This press release contains forward-looking statements within the meaning of Section 27A of the Securities Act of 1933, as amended, and Section 21E of the Securities Exchange Act of 1934, as amended. The forward-looking statements herein include, but are not limited to, the expected expansion of our solar solutions into Europe Middle East, Asia and Africa. Our actual results may differ materially from those implied in these forward-looking statements as a result of many factors, including, but not limited to, overall industry environment, customer acceptance of our products, delay in the introduction of new products, further approvals of regulatory authorities, adverse court rulings, production and/or quality control problems, the denial, suspension or revocation of permits or licenses by regulatory or governmental authorities, termination or non-renewal of customer contracts, competitive pressures and general economic conditions, and our financial condition. These and other risks and uncertainties are described in more detail in our most recent SB-2 filing with the Securities and Exchange Commission. Forward-looking statements speak only as of the date they are made. We undertake no obligation to update or revise such statements to reflect new circumstances or unanticipated events as they occur, except as required by applicable laws, and you are urged to review and consider disclosures that we make in the reports that we file with the Securities and Exchange Commission that discuss other factors germane to our business.
Featured Product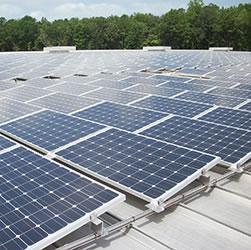 The Power Rail™ Commercial Mounting System is designed with the professional PV solar installer in mind. Both the XD/UD and LD/MD rails feature single tool assembly with the revolutionary patented RAD™ Lock-in-Place bolt for fast and secure module clamping. The high strength marine-grade aluminum rails include an integral wiring channel for securing cables and providing a professional finish.