Phoenix Canada Oil reports U.S. Patent granted on its licensed hydrogen generation technology. Phoenix holds exclusive rights for 20 years beyond the 17-year patent term. The patent covers hydrogen generation from water feedstock employing catalytic conversion of solar light energy.
Toronto; 26 October 2006 -- Phoenix Canada Oil Company (TSXV : PCO & OTC BB : PHXCF) today announced that U.S. Patent No. 7,122,171 has been granted on the hydrogen gas generation technology held by its U.S. unit, Phoenix International Energy Inc., under a long term, worldwide Technology License Agreement with a major U.S. research university. Phoenix exclusivity under the agreement extends for 20 years beyond the initial 17-year patent term.

The newly issued patent establishes the "foundation" technology designed to generate low cost hydrogen gas from common water feedstock. The innovative process effectively harnesses and catalytically converts solar light energy to produce hydrogen gas as the ultimate sustainable clean energy resource. The Phoenix hydrogen economy initiative will employ the generated hydrogen gas as a replacement, rather than alternative, clean energy fuel that can eliminate global warming issues and greenhouse gas emissions, with minimal environmental impact on long term climate stability.
Hydrogen gas combustion produces sustainable clean energy, with only pure water vapour emissions. Energy derived from alternative coal, hydrocarbon and nuclear fuels will be constrained by the depletion of reserves, the costs and dangers in dealing with carbon, sulphur and nitrous oxide emissions and with nuclear waste disposal. The planet's virtually inexhaustible hydrogen resources can guarantee the survival of an energy dependent civilization.
International intellectual property protection is being secured by way of a current PCT (Patent Cooperation Treaty) filing effective in all major industrial nations. Definitive national patent filings will be evaluated over the next 18 months.
-30 -
Further Information -- Contact:
S. Donald Moore, President
T. 416.368.4440
E. E.phoenix@atlantor.com
The TSX Venture Exchange has not reviewed and does not accept responsibility for the adequacy or accuracy of the contents of this release.
Featured Product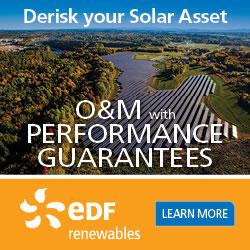 EDF Renewables offers the same innovative solutions that maximize the performance of our own 5.2 GW of installed projects. Because we're not an equipment manufacturer, our recommendations are transparent and data-driven. We cover the entire project lifecycle: from pre-commissioning support, through warranty and post warranty operation, to late stage and decommissioning.