The patented SL product series uses a flat panel design and can provide light for a full dusk to dawn operation.
SOL® Inc.

Solar Powered Street Light
Receives Hurricane Certification
Palm City, FL - January 15, 2007: SOL, Inc. (formerly Solar Outdoor Lighting, Inc.)
announced today that their patented SLH Series lighting systems are now certified to meet or exceed ASCE 7-05 specifications for 150 MPH, Exposure D wind events. Independent structural engineers have certified that SOL Inc.'s SLH series far exceed the 150 MPH, Schedule D wind event requirements as per Chapter 6 of the ASCE 7-05 specifications.
The patented SL product series uses a flat panel design and can provide light for a full dusk to dawn operation. Not only is the solar lighting system certified to this high standard, but the attachment to the pole has also been certified, eliminating any weak points that may cause the system to not withstand the high winds.
"For over 17 years, SOL's products have withstood high wind conditions in hurricanes and typhoons around the world. We have put a substantial amount of work into making sure that all the stresses brought on by such a high wind event have been compensated for. We have certified results documenting a 50% safety factory beyond the 150 MPH Schedule D requirements," states Tom Ward, VP of Sales & Marketing. "SOL Inc. knows how critical this can be having personally gone through the recent 2004 and 2005 active hurricane seasons. Having light even when grid power fails will help communities stabilize local conditions in these critical times."
About SOL Inc. - Founded in 1990 as Solar Outdoor Lighting, Inc. SOL INC. is the world's leading manufacturer of commercial grade solar powered lighting products and systems. SOL develops and markets the most efficient and reliable solar powered systems for lighting applications including parking lot, street, security, general area, billboard, transit shelter and transportation safety lighting. SOL's systems come with an industry leading 5-year warranty. Headquartered in Palm City, Florida, SOL's patented products are installed in over 50 countries world-wide.
For more information, please visit www.solarlighting.com or contact J.R. Finkle at jrfinkle@solarlighting.com (800) 959-1329 Ext. #2008 or (772) 286-0663.
Featured Product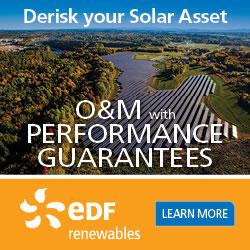 EDF Renewables offers the same innovative solutions that maximize the performance of our own 5.2 GW of installed projects. Because we're not an equipment manufacturer, our recommendations are transparent and data-driven. We cover the entire project lifecycle: from pre-commissioning support, through warranty and post warranty operation, to late stage and decommissioning.