As national attention heats up on alternative energies, competition designed to mentor and train entrepreneurs starting alternative energy companies kicks off at MIT's Stata Center with keynote from Massachusetts Secretary of Environmental Affairs, Ian Bowles
Cambridge, MA (February 5, 2007) - With international attention increasingly focused on the alarming trend of global warming and climate change, the MIT Enterprise Forum is hosting a kick-off event for its 3rd annual Ignite Clean Energy (ICE) Competition on Tuesday, Feb. 13.

The Competition is an annual three month long contest for startup companies dedicated to reducing the consumption of fossil fuels through innovative technologies. The event will be held from 6 to 9 p.m. at the MIT Stata Center in Cambridge, Mass.
Ian Bowles, Massachusetts Secretary of Environmental Affairs, will be giving the keynote address. Additionally, event speakers Bob Hemphill, EVP for leading energy provider AES, will provide insights into the kinds of services and products they will be buying in the future and Rana Gupta, Managing Director of Navigator Technology Ventures, will share innovative ideas for raising non-venture funding for startup companies.
The competition, which runs through May 1, aims to build on New England's reputation for building new economic clusters in High Tech and Bio Tech industries by making the Northeast a capital of innovation and commerce for clean energy.
Each team will be paired with industry mentors, enabling them to gain the knowledge and skills needed to attract investors and to build a sustainable company that will bring jobs and clean energy to the region. Winning entrants will be awarded a total of $150,000 in cash and services, including $47,500 worth of public relations services, legal services, and office space for the grand prize winner.
"Each team will have the opportunity to receive expert mentoring to refine their business concept and professional coaching to prepare, improve and perfect the presentation skills that are critical for winning the support of investors, from venture capitalists and angels to corporate," said Dr. Linda Plano, Competition Chair. "This will in turn give them the competitive edge and entrepreneurial skills that they will need to survive and succeed on their own, thus creating a long-term economic impact and benefits in the Northeast through the expansion of the clean energy cluster."
Past ICE winners include: Stellaris - (www.stellaris-corp.com), whose technology utilizes novel, low-cost plastic concentrator to enable windows & skylights to generate electricity from solar cells unobtrusively; Powerhouse Enterprises - (www.powerhouse-enterprises.com) whose technology leverages the economics of modular building technology to construct highly energy-efficient, beautiful homes at about cost parity. Feed Resource Recovery, a Babson Student team, uses existing technology to convert food waste into biogas, compost and fertilizer for supermarkets and restaurant chains.
If interested in becoming a participant, mentor or sponsor for the event, please go to www.ignitecleanenergy.com to sign up!
###
About Ignite Clean Energy
Sponsored by the MIT Enterprise Forum Energy Special Interest Group, the Ignite Clean Energy (ICE) Competition began in 2004 to stimulate the growing clean energy industry in New England. It provides start-up clean energy companies and entrepreneurs with the opportunities and resources to develop business skills, network with industry professionals and the chance to attract potential investors. The winners will be awarded a total of $150,000 in cash and services.
For More Information, Please Contact:
Linda Plano Jessica Devaney
Ignite Clean Energy Bell Pottinger USA
617-287-7014 617-226-7187
lplano@umassp.edu jdevaney@bellpottingerusa.com
Featured Product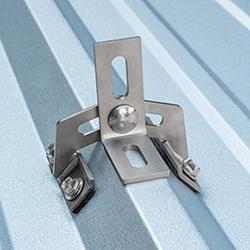 SolarRoofHook's Low Profile QuickBOLT with Microflashing™ is the industry's affordable, UL Certified Asphalt Shingle mounting system. The Microflashing™ is compressed by the collar on the bolt to create a water-tight seal. With an installation time of less than one minute, the Low Profile QuickBOLT allows installers to complete more jobs.