SPG Solar, Inc. announced today the completion of the 827 kilowatt solar energy system for Western Wine Services in Napa Valley, California. SPG designed and installed the photovoltaic (PV) system, the largest commercial solar installation of its kind in Napa to date, over a three-year period.
SPG Solar, Inc. announced today the completion of Phase III of the 827 kilowatt (kW) DC photovoltaic (solar energy) system for Western Wine Services in Napa Valley, California. SPG designed and installed the photovoltaic (PV) system, the largest commercial solar installation of its kind in Napa to date, over a three-year period. Western Wine provides barrel-aging, storage and transportation services for premium Napa winemakers in American Canyon, at the southern end of the Napa Valley.

"We immediately recognized the financial and ecological rewards of clean renewable solar energy. Having completed the largest system ever in the Napa Valley, we are delighted to increase our commitment to the environment," said Tony Politeo Vice President, Western Wine Services.
"Clearly the leadership at Western Wine has embraced the sprit of sustainability and has captured the vision to reduce global warming through renewable clean solar energy," said President and CEO of SPG Solar, Dan Thompson.
Western Wine produces enough energy to power 283 California homes each year. The 827 kW solar PV system prevents 1,655,672 lbs. of carbon dioxide from being emitted into the atmosphere annually by a natural gas power plant. It takes 626 acres of pine forest to absorb this much CO2 from the atmosphere each year. This is equivalent to removing 163 passenger cars from the road or offsetting 1,747 barrels of oil.
Net Metering Provides Green Energy for Napa
To properly store its clients' wines, Western Wine Services utilizes mechanical air conditioning and night air exchange to cool its facilities. The PV system produces more energy than Western Wine consumes for a good portion of the year. Excess energy flows back up the utility line through a bi-directional electric meter for credit with PG&E, the local electric utility. Napa Valley homes and businesses adjacent to the warehouses utilize the excess solar, benefiting from the green energy produced by Western Wine.
System Specifications
SPG began design and installation of Phase I of the Western Wine system in 2003, and completed Phase III in December 2006. SPG installed a total of 3,626 PV panels on the rooftops of three Western Wine warehouses in American Canyon.
CONSTRUCTION PHASE I
System Size: 115 kW DC
PV Modules: 688 Kyocera 167-watt
Inverter: 1 Xantrex 100 kW
Completion: 2003
CONSTRUCTION PHASE II
System Size: 231 kW DC
PV Modules: 1,386 Kyocera 167-watt
Inverter: 1 Xantrex 225 kW
Completion: 2004
CONSTRUCTION PHASE III
System Size: 481 kW DC
PV Modules: 1,552 SCHOTT 310-watt
Inverters: 1 SatCon 135 kW; 1 SatCon 225 kW; 1 SatCon 50 kW
Completion: December 2006
The solar panels are mounted on open supports to maximize cooling airflow over their top and bottom surfaces, lowering electrical resistance and improving system efficiency. The tilted panels also shed airborne dust, promoting the collection of photons from the sun by staying clean.
SPG's proprietary SunSpot® monitoring system reports how much energy the Western Wine PV system produces throughout the day. Western Wine management uses the SunSpot® web interface to view the system's productivity in real time online.
About Western Wine Services
Western Wine Services provides storage/fulfillment and transportation services to over 140 domestic wineries and importers. Located in the City of American Canyon at the southern end of Napa Valley, Western Wine's facilities encompass over 1 million square feet. The warehouses are conveniently located close to the San Francisco Bay Area's ocean ports and intermodal transportation facilities. Its sister company, Western Carriers, provides similar services at its operation in North Bergen, New Jersey. For more information, visit www.westerncarriers.com.
About SPG Solar, Inc.
SPG Solar, Inc. (SPG) is one of the renewable energy industry's leading integrated developer, designer, and installer of solar photovoltaic (PV) systems for homes, businesses, agriculture and large-scale commercial and government facilities. SPG Solar was founded in 2001 in response to California's rolling blackouts and skyrocketing energy prices and is committed to building the highest-performing solar PV systems with the highest return on investment. SPG Solar is an expert provider of solar energy systems for wineries and vineyards, meeting their seasonal needs with clean renewable energy generated on-site. SPG Solar has designed and installed PV systems for numerous wineries and wine industry businesses, for a cumulative 1.9 MW of power. For more information, visit www.spgsolar.com.
Featured Product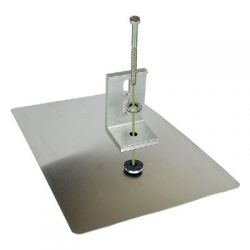 The GreenFasten™ - GF1 system utilizes the patented watertight technology EcoFasten Solar® is known for. The flashing is fit with our EPDM rubber bushing and when used with a compatible EcoFasten Solar compression bracket (milled with countersink), a watertight seal is created, which protects the integrity of the roof. Requiring just a single fastener (lag bolt or self-drilling), GreenFasten provides the fastest install in the industry and will not void roofing manufacturer's warranties. Backed by IAPMO certification, GreenFasten delivers a mounting solution for all new or existing (retrofit) composition shingle roofs, and is the most cost-effective solution available. Like all of the solar roof mount solutions in our line of products, GreenFasten is made in the USA using recycled materials.