Revolutionary vehicles on display, free seminars at Hydrogen Expo US
San Antonio, TX / Alpen, Germany, 06-March-2007 - A mobile hydrogen refueler and different types of onsite hydrogen generators, all of them designed to make the clean fuel available now, are among the products on display at the upcoming Hydrogen Expo US from March 19 to 21 at the Henry B. Gonzalez Convention Center in San Antonio, Texas. The expo is once again held as part of the National Hydrogen Association's (NHA) Annual Hydrogen Conference.

More than 90 exhibitors from nine countries will showcase the latest in hydrogen and fuel cell technology at the leading gathering of professionals from this industry which is committed to emission-free, domestically produced energy. "Hydrogen: Here And Now!" is the theme of this year's Conference and Expo, putting the spotlight on hydrogen and fuel cell products that are available and for sale. In addition to hydrogen generation systems, other products currently available include gas compressors, fuel tanks, and safety equipment such as leak detectors. Also on display are fuel cell systems for a variety of applications, including home heating and power supply, portable electronics, and vehicle propulsion.
Two brand new, revolutionary vehicles, BMW's Hydrogen 7 and DaimlerChrysler's B-Class F-Cell, will be available for inspection in the exhibit hall. These cars have not yet made it into the dealers' showrooms, but they are part of the "Ride & Drive", one of the unique highlights of the NHA Annual Hydrogen Conference & Hydrogen Expo US. Directly outside the Expo hall, the media, conference delegates and expo visitors will have the opportunity to get behind the steering wheel and test-drive one of the hydrogen-fueled vehicles from exhibitors such as BMW, DaimlerChrysler, General Motors, Honda, and Toyota.
Exhibitors at Hydrogen Expo US further include: Air Products, Areva, Ballard, California Fuel Cell Partnership, Chevron Technology Ventures, Connect to Conneticut, Fuel Cell & Hydrogen Network Northrhine-Westphalia, H2moves.eu, Hydrogen Power, Hydrogenics, Linde, Praxair, Proton Power Systems, Shell Hydrogen, South Carolina Hydrogen & Fuel Cell Alliance, Southwest Research Institute, and many more.
In addition to the Conference sessions available to registered delegates, free seminars offering hands-on information on new products, projects and initiatives are held inside the Expo hall. The Hydrogen Expo US Exhibitor Seminar Forum is open to all conference delegates and expo-only visitors on March 20 and 21, with presentations running from 10.30am to 4.00pm daily.
To view the complete list of exhibitors, the free seminar schedule, and the expo show hours visit: www.hydrogenexpo.com
About:
The NHA Annual Hydrogen Conference & Hydrogen Expo US is the largest hydrogen conference in the United States and the longest running annual hydrogen conference in the world. More than 1,500 business professionals are expected to attend the 18th Annual Conference in San Antonio, Texas, March 19-22, 2007 to experience "Hydrogen: Here and Now!". Attendees will network with industry leaders, and learn about the latest developments from keynote addresses, specialized technical sessions and the Expo.
To register for the conference go to: www.hydrogenconference.org
Conference: March 19-22
Expo dates: March 19-21
Contact:
Freesen & Partner GmbH
Dr. Ines Freesen
Schwalbennest 7a
46519 Alpen, Germany
Tel. +49-2802-948484-0
Fax: +49-2802-948484-3
info@hydrogenexpo.com
http://www.hydrogenexpo.com
Featured Product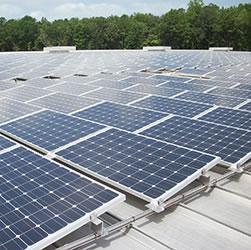 The Power Rail™ Commercial Mounting System is designed with the professional PV solar installer in mind. Both the XD/UD and LD/MD rails feature single tool assembly with the revolutionary patented RAD™ Lock-in-Place bolt for fast and secure module clamping. The high strength marine-grade aluminum rails include an integral wiring channel for securing cables and providing a professional finish.