Currie to build advanced light electric bicycles using Dolphin's patented hybrid drive technology and will display the drive system platform at Taipei Cycle Show
(Taipei, Taiwan, March 20, 2007) - Dolphin E-Bikes GmbH (Dolphin), a pioneering electric drive technology development company, announced today it has entered into a close cooperation with Currie Technologies, Inc. (Currie), a premier developer, manufacturer and distributor of high-performance hybrid-and electric-powered vehicles and personal transportation products.

Under the agreement, Currie will expand its IZIP' product line to include hybrid electric bicycles combining the patented Syntelli Drive' drive systems with Currie Electro-Drive' technologies, designs and manufacturing expertise. As a result, unique electric bicycles with extremely high power, range and speed - all come together for the first time - to deliver the rider uniquely impressive performance. The IZIP Express' model will outdistance, outrun and out perform virtually any other hybrid electric bikes on the market making them a practical alternative to gas-powered vehicles for many people.
Currie will manufacturer a complete line of e-bikes utilizing Dolphin's Hybrid Drive technology creating a new class of electric bicycle models which are truly engineering innovations. The bikes feature a unique differential planetary hub system which is propelled independently yet simultaneously by two drive systems - electrical and human powered. Because of the differential, neither system bogs down nor negatively impacts the other. Both operate at high efficiencies and optimum performance.
A power sensor detects pedaling motion and crankshaft speed via a microprocessor and sends a corresponding signal to the electrical motor to supplement human power on the other drive system. While not a true torque sensor in the original sense of the word, the effect is just that thanks to the dynamics involved in the differential system and thus extra pedaling effort is rewarded by the creation of a variable amount of electric push - rider selectable - to overall propulsion.
This is a flexible system, and the top of the line Express model has three modes, the top one being a "turbo mode" which combined with pedaling can achieve speeds beyond 40 km/h (25 mph). It also works on hills making what was before impossible or arduous a pleasure. Riders are amazed at the climbing pace and ease at which you outdistance others and arrive un-winded at the top of hills.
The basic technology is mature and has been proven in Western Europe for many years. The technology has won a number of awards in toe-to-toe competition in various races worldwide. "Currie's history of innovation in the design and manufacture of electric vehicles makes them a perfect partner for Dolphin," said Michael Kutter, Dolphin's founder. "This agreement moves us closer to our goal of providing affordable, advanced technology that will get more people on E-Bikes then ever before."
Currie is working closely with Dolphin to design a significantly expanded line of models using the Dolphin Hybrid Drive, creating new market opportunities for its customers. "We're excited about making Dolphin Hybrid Drive technology a part of our IZIP electric bicycle product line," said Dr. Malcolm R. Currie, founder of Currie Technologies, Inc. "These vehicles offer riders superior choices, and represent an outstanding marketing opportunity for specialty retailers."
Currie's IZIP hybrid bikes featuring Dolphin Hybrid Drive will be available for sale in Q4 2007. The companies will display concept models for the first time at the upcoming Taipei International Cycle Show later this month. Eurobike and Interbike is the scheduled launch of the full line of Dolphin Hybrid Drive models by Currie Technologies. "We encourage you to visit us at Taipei Show and come in on the ground floor now and participate in the line development for your own market needs and requirements" said Larry Pizzi, Currie's President and CEO. "Please visit with us at Taipei at our Ace booth number B0518 on March 24-27, 2007."
About Currie Technologies, Inc.
Currie Technologies, Inc. is a developer, manufacturer and distributor of quality, high-performance hybrid and electric powered vehicles and personal transportation products. Currie Technologies was founded in 1998 by Dr. Malcolm R. Currie, the former chairman and CEO of Hughes Aircraft and Delco Electronics, on the conviction that electrically driven vehicles will become increasingly important for fundamental environmental and economic reasons, and that new and large international markets will emerge. Currie Technologies hold various technology patents on the Electro-Drive' Propulsion Systems, unique electric drive systems that provides superior performance and durability at a reasonable price. To learn more about Currie Technologies and its IZIP product line, please visit www.currietech.com or www.izipusa.com.
About Dolphin E-Bike.
Dolphin E-Bike GmbH is headquartered in Basel, Switzerland. The company has developed Dolphin Hybrid Drive technology, an electric drive system for a bicycle with electric assist motor and continuously variable transmission based on a patented technology platform. Dolphin was founded by Michael Kutter who is specialized in the development of efficient hybrid vehicles and drive systems. To learn more about Dolphin, please visit www.velocity.ch.
Featured Product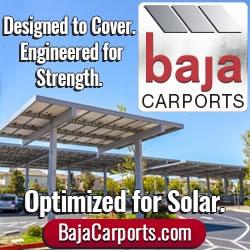 Baja Carports offers an extensive solar support system product line customized to customers' site specifications by in-house engineers, meeting their parking lot coverage, plus optimal PV production needs. Baja's Full Cantilever Tee is often paired with its Semi and Full Cantilever carports to meet live/loads up to 60psf and wind speeds to 160mph. All Baja products are pre-fabricated, bolted connections, pre-galvanized structural steel for fast on-site installation and project aesthetic requirements."