The president of a council of renewable energy professionals called on states and the federal government Tuesday to join U.S. companies and the financial community in capturing the "enormous" potential and benefits of the nation's ability to produce cleaner electricity and transportation fuels.
Michael T. Eckhart, President of the American Council On Renewable Energy, or ACORE, told the U.S. Senate Subcommittee on Science, Technology and Innovation that U.S. companies are barely scratching the surface of the underlying economic, environmental and national security dividends that can come from tapping more of the potential for wind, solar, geothermal, biomass, tidal and other renewable sources of energy.

"We should act with decisiveness in favor of renewable energy and other energy technologies that support our national goals for security, growth, environment, climate and jobs. And we should increase U.S. competitiveness on renewable energy in the global marketplace," Eckhart said.
Eckhart said U.S. energy policies should address both the challenges of oil dependence and of global warming in an integrated way, and that includes building the infrastructure for a more sustainable society with long-term incentives to catalyze investment in new renewable power, a modernized electric transmission network similar to our national highway system and systems that allow optimal utilization of on-site distributed renewable technologies at the point of use.
"The U.S. needs to accelerate its research and development for renewable energy tenfold and in the process strike a balance between near-term needs with investments in longer-term research and science that will produce the next generation of technologies. This way, the U.S. can compete for global leadership in those technologies," Eckhart said.
ACORE, a 501(c)(3) membership nonprofit organization headquartered in Washington, D.C., is dedicated to bringing renewable energy into the mainstream of the US economy and lifestyle through information and communications programs. ACORE provides a common platform for the wide range of interests in the renewable energy community including renewable energy industries, associations, utilities, end users, professional service firms, financial institutions and government agencies. ACORE serves as a forum through which these parties work together on common interests. Membership information is available at: www.acore.org.
Featured Product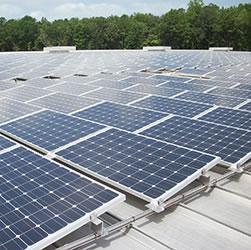 The Power Rail™ Commercial Mounting System is designed with the professional PV solar installer in mind. Both the XD/UD and LD/MD rails feature single tool assembly with the revolutionary patented RAD™ Lock-in-Place bolt for fast and secure module clamping. The high strength marine-grade aluminum rails include an integral wiring channel for securing cables and providing a professional finish.