Vebnet, the leading supplier of technology and support services for employee benefits, today announces a ground-breaking service which enables 250,000 UK employees to help combat climate change directly through their monthly pay.
Vebnet Enables 250K+ Employees To Directly Help Climate Change By Launching First-Ever Payroll Giving Carbon Offset Scheme

• Vebnet teams up with PURE - the Clean Planet Trust (Registered charity No. 1112249) - to create a new initiative which allows individuals to calculate carbon emissions online and offset through their payroll
• Centrica first UK organisation to support payroll-giving carbon offsetting programme to PURE
• 250,000 employees from 170* UK organisations can now simply support United Nation's approved (Kyoto Protocol) projects
• At today's prices, £5 per month from every employee would eliminate over 1 million tonnes of emissions in one year
Vebnet, the leading supplier of technology and support services for employee benefits, today announces a ground-breaking service which enables 250,000 UK employees to help combat climate change directly through their monthly pay. By partnering with PURE - the Clean Planet Trust, individuals can calculate carbon emissions online and compensate the environment for their own carbon dioxide pollution by 'giving as they earn' through their flexible benefits programme provided by their employer.
By combining PURE's and Vebnet's online technology, employees from 170 UK companies* can use the initiative to take responsibility for their household and travel emissions. Employees can calculate their carbon footprint with a link to PURE technology, and then choose to offset all or part of it in monthly payments from their pay, in a tax efficient way, through their employer's use of Vebnet's flexible benefit technology.
Centrica, the leading energy company and owner of British Gas is one of the first organisations to support Vebnet's initiative, partnering with PURE - the Clean Planet Trust. Liz Dixon, one of Centrica's Reward Managers, comments, "Centrica's customers, employees and wider stakeholders expect us to demonstrate leadership on environmental issues. As we are moving to Vebnet for our flexible benefits scheme for 10,000 employees, we can now add PURE as a socially responsible give-as-you-earn benefit. Employees can work out their personal carbon footprint and they can use their flexible benefits allowance to offset it. Many of our employees are very passionate about environmental issues and this is a very simple process which means they can take action to tackle climate change.
"Based on the electricity we supply to UK households, Centrica already has the lowest carbon emissions of all the major energy suppliers. What's more, our employees are already actively involved in reducing their own carbon footprint through our Natural Capital initiative which encourages them to think about the amount of paper they use, how they travel to work and how they can save energy whenever possible. Carbon offsetting through flexible benefits just makes sense. It provides an extension to Natural Capital, empowering employees to show even more environmental responsibility."
Marcus Underhill, head of flexible benefits at Vebnet, explains, "Companies are under increasing pressure to make interventions when it comes to staff environmental activity. Now, they can take the lead with this easy process that supports their own corporate responsibility initiatives and help ensure benefits are linked to a social conscience. Also, this can be used as a salary-sacrifice scheme so organisations can gain maximum tax attractiveness on green contributions.
"PURE is unique because it is the first UK charity dedicated to combating climate change by carbon offsetting. It uses donations to buy Kyoto carbon credits and ensures each selected project has genuinely reduced carbon emissions. Then PURE cancels the credits so they can't be used by the world's big polluters, which increases the speed of emissions reduction."
Vebnet is promoting this programme to each of its 170 customers, as well as providing full information to all employees so that they can make informed choices. www.vebnet.com and www.puretrust.org.uk.
About Vebnet
Vebnet specialises in the development, deployment and support of internet based technology for flexible benefits and total reward statements. Founded in 2000 and subsequently listed on AIM (2003), Vebnet has rapidly become the leading provider of this technology. Through significant, specialist experience of the employee benefits market, Vebnet is able to identify the real business case behind implementing flexible benefits. This ensures that clients are able to achieve a rapid return on investment. Vebnet launched its FIX&FLEX product in 2002, which is now distributed via leading benefit consultants and a range of other strategic partners. Customers include The AA, Britannia Building Society, Heineken, Informa, JPMorgan, Nationwide, PWC, KPMG, SonyBMG and Virgin.
www.vebnet.co.uk
» For Organisations, Vebnet solutions offer a branded vehicle to communicate the value of their total rewards, help differentiate themselves from competitors, harmonise terms and conditions and deliver tangible results to the bottom line.
» For HR, Vebnet solutions simplify benefits administration and strengthen reporting and management capabilities, aiding the campaign to recruit, motivate and retain employees.
» For employees, Vebnet solutions enable organisations to provide appealing and valued benefit choices and show individuals just how much investment is made into their benefit packages. Access is available 24/7 with internet connection for an intuitive and engaging experience.
» For global companies, Vebnet solutions provide the functionality to offer benefits to employees internationally, online and in multi-currency formats.
» A cost-neutral voluntary benefits programme from Vebnet bundles tax efficient salary sacrifice arrangements together, to offer employees more benefit choices.
About Pure
• www.puretrust.org.uk
- Organisations, businesses and individuals can quickly and easily calculate their carbon footprints online
- Online donations can be made without difficulty.
• PURE was launched on the 29th November 2006 at a lunchtime reception at the Lido Café by the Solar Shuttle jetty on the Serpentine in Hyde Park, London.
• PURE's launch was attended by Ian Pearson MP, Minister of State, Climate Change and the Environment, climate change experts and environmental commentators, government representatives and business leaders.
• Trustees of PURE include Jed Jones, UK Climate Change Projects Office, Mike Rees, Benfield Group plc, Sir David Brewer, former Lord Mayor of the City of London and Ed Atkinson of Climate Corporate Advisory Services LLP. Stephen Fry, Author and Broadcaster is a Patron of PURE
• PURE was also welcomed by the Carbon Disclosure Project which embraces all FT500 and FTSE350 companies and is backed by 225 global investors that represent $31 trillion investments.
• Among the first to offset their carbon emissions via PURE were:
a) The European Commission's 'Green Week' activities.
b) Lord Turner of Ecchinswell (former Director General of the CBI)
c) Grant Thornton UK LLP (Accounting and consultancy firm) pledged to introduce its 25,000 corporate and 15,000 individual clients together with its 3,200 strong staff to the scheme to PURE.
d) MAN Group plc (Alternative investment products and solutions. One of the world's largest futures brokers) www.mangroupplc.com
e) Underwired (Design agency) www.underwired.com
f) Teachers Building Society (20,000 members) www.teachersbs.co.uk
Featured Product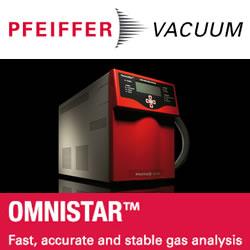 The Pfeiffer Vacuum OmniStar benchtop analysis system offers you a compact footprint, powerful software and Ethernet connectivity. It's the optimum solution for many real-time gas analysis applications. With the OmniStar, Pfeiffer Vacuum offers you a complete solution for gas analysis, in chemical processes, semiconductor industry, metallurgy, fermentation, catalysis, laser technology and environmental analysis. The turnkey OmniStar gas analysis system consists of heated, temperature-regulated gas inlet system, Quadrupole mass spectrometer, a dry diaphragm vacuum pump and HiPace turbopump. Unlike competing methods such as FTIR, OmniStar is suitable for qualitative and quantitative analysis of most gases.