Raser Technologies announced today that they have entered into a series of agreements with United Technologies Corp. Power.
Up To 135 PureCycle® Power Systems to Supply 30MW of Renewable Power

SOUTH WINDSOR, CT and PROVO, UT, April 12, 2007 -- UTC Power, a United Technologies Corp. (NYSE: UTX) company, and Raser Technologies of Provo, Utah (NYSE Arca: RZ), today announced they have entered into a series of agreements for UTC Power to provide up to 135 PureCycle® geothermal power systems for three Raser power plants. In total, these systems will generate approximately 30 megawatts (MW) of renewable electrical power.
The agreements contemplate a long-term relationship in tapping geothermal resources to provide renewable power and in continuing to improve organic Rankine cycle power generation technology. They also allow for testing with respect to the possible adoption of motor technologies owned and licensed by Raser. The agreements further provide for certain down payments by Raser to UTC Power, and the financial terms reflect consideration for the technology development and field demonstration anticipated by Raser and UTC Power. Other financial terms of the transaction were not disclosed.
Delivery of the first 45 units begins in the fourth quarter of 2007 to the first of Raser's three initial geothermal sites. UTC Power has also signed a service agreement with Raser for maintenance of these units.
"We believe these types of renewable energy-producing power plants will be a significant part of the US power production portfolio in the future," said Brent M. Cook, chief executive officer of Raser. "Accelerated development of domestic geothermal resources will produce electricity in an environmentally friendly way and contribute to energy independence. We are delighted to be associated with UTC Power, whose entry into geothermal power generation is a significant step in our nation's push toward energy independence."
According to UTC Power President Jan van Dokkum, "The PureCycle system will make it possible to tap into a significant new domestic renewable energy resource because it operates at previously unusable low temperatures — from 165 to 300 degrees Fahrenheit. These units will provide renewable power around the clock from a 'free' fuel source. The PureCycle system is an important addition to UTC Power's environmentally responsible product offerings and we look forward to working with Raser in aggressively deploying and advancing this technology."
Raser expects the geothermal resources for its first three smaller, 10 MW power plants to be low-grade reliable heat sources of approximately 265 degrees F. All three geothermal plants are expected to be built on the company's leased properties. Heat sources may vary among locations, but plant designs are expected to be similar. The plants should qualify for Renewable Energy Credits (RECs) and are also anticipated to be placed in service in time to qualify for Production Tax Credits (PTCs) and other tax benefits provided under the Internal Revenue Code.
The PureCycle geothermal system results from more than six years of research and development work involving UTC Power, United Technologies Research Center and the US Department of Energy. The organic Rankine cycle-based power system is an advanced binary cycle system that is driven by a simple evaporation process and is entirely enclosed, which means it produces no emissions. The only byproduct is electricity, and the system's "fuel" — geothermal hot water — is a renewable resource.
PureCycle geothermal systems have been in operation since 2006 at Chena Hot Springs Resort in Alaska, as a US Department of Energy Geothermal Technologies demonstration project. It is the first geothermal project in Alaska and the lowest temperature geothermal resource (165° F) ever used for commercial power generation.
"United Technologies is a great company that stands behind their products with significant capabilities both in personnel and in manufacturing resources," continued Cook. "We anticipate working with UTC Power for many years in the future."
About Raser Technologies
Raser (NYSE: Arca: RZ) is a publicly-traded technology licensing and development company operating in two business segments. Raser's Transportation and Industrial Technology segment focuses on using Raser's SymetronTM technology to improve the efficiency and power density of electric motors and other applications. Raser's Power Systems segment is seeking to develop new geothermal electric power plants and bottom-cycling operations, incorporating licensed heat transfer technology and Raser's SymetronTM technology. Further information on Raser may be found at: www.rasertech.com.
About UTC Power
United Technologies Corp., based in Hartford, Conn., provides high-technology products and services to the building and aerospace industries. Its UTC Power unit, based in South Windsor, Connecticut, is a full-service provider of environmentally advanced power solutions. With nearly 50 years of experience, UTC Power is a world leader in developing and producing fuel cells for onsite power, transportation, space and defense applications, and a developer of innovative combined cooling, heating and power systems in the distributed energy market.
Cautionary Note Regarding Forward-Looking Statements
This press release contains certain forward-looking statements within the meaning of Section 27A of the Securities Act of 1933 and Section 21E of the Securities Exchange Act of 1934, including, but not limited to: beliefs about the potential for geothermal power generation on Raser's leased properties; beliefs about the geothermal market generally; and beliefs about the market for and capabilities of the PureCycle geothermal power system. These forward-looking statements involve certain risks and uncertainties that could cause actual results to differ, including, without limitation, risk and uncertainties associated with: the successful completion of PureCycle geothermal system product verification and validation and commercial release; challenges in the design, development, production and support of advanced technologies, such as the PureCycle geothermal system; Raser's ability to attract alliance or financial partners on its power projects; the competitive environment and Raser's ability to compete in the industry; Raser's ability to attract, train and retain key personnel; and such other risks as identified in Raser's annual report on Form 10-K for the year ended December 31, 2006, as filed with the Securities and Exchange Commission, and all subsequent filings. All forward-looking statements in this press release are based on information available to us as of the date hereof, and we undertake no obligation to update forward-looking statements to reflect events or circumstances occurring after the date of this press release.
Featured Product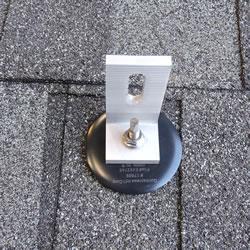 SolarRoofHook's Low Profile QuickBOLT with Microflashing™ is the industry's affordable, UL Certified Asphalt Shingle mounting system. The Microflashing™ is compressed by the collar on the bolt to create a water-tight seal. With an installation time of less than one minute, the Low Profile QuickBOLT allows installers to complete more jobs.