Putting Vietnam on the global map of solar and wind energy by 2010 with an initial financial outlay of only €450.000 and with no government help.
At the 7th Asian Pacific Roundtable for Sustainable Consumption and Production (APRSCP), next week (Wednesday 25 to Friday 27 April) in Hanoi, Vietnam; Steve Clemens, Belgian UBI lecturer Environmental Economics will present a paper with the title as above.

Environmental institutions, NGO's and organisations are aware of the need for Marketing or Business acumen in the progress of eco-innovation to market success. The proverbial Death Valley of entrepreneurship is to be crossed with an MBA pilot.
Small-scale renewable energy projects can make significant contributions to global climate protection while playing an important role in improving the quality of life for people in poor countries.
Solar water heating and small wind energy is particularly promising in this respect as a comparatively cost-effective way of reducing greenhouse gas emissions.
This paper suggests a combination of low-tech renewable energy systems with an ambitious & dynamic deployment strategy through the setting up of Solar Energy Training Centres (SoleTrains), a push strategy into the Vietnamese market.
In these SoleTrains, selected local (micro-) entrepreneurs are given all necessary training in relevant production, installation and marketing techniques, which will allow them to market and produce these solar & wind energy systems countrywide, urban or rural alike.
By carbon trading, through the Clean Development Mechanism under the Kyoto Protocol, there would be no need for local government subsidies.
The suggested program would help to:
- disseminate solar and wind energy applications throughout Vietnam
- become an important component of climate change mitigation efforts, by avoiding 50 million tons of CO2e per year.
- decouple economic growth from environmental degradation
- provide considerable economic impetus
- alleviate production & transmission pressure on the Vietnamese rural power grid
This strategy could be implemented in about any country with sufficient solar and entrepreneurial resources.
------
Steve Clemens is a lecturer at Brussels business school UBI, teaching Environmental Economics and Environmental Entrepreneurship to MBA students. Occasionally he teaches at Hoa Sen University in Saigon, Vietnam.
UBI
www.ubi.edu
Hoa Sen University
www.hoasen.edu.vn
7th APRSCP
www.aprscp.org
Featured Product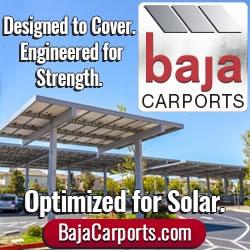 Baja Carports offers an extensive solar support system product line customized to customers' site specifications by in-house engineers, meeting their parking lot coverage, plus optimal PV production needs. Baja's Full Cantilever Tee is often paired with its Semi and Full Cantilever carports to meet live/loads up to 60psf and wind speeds to 160mph. All Baja products are pre-fabricated, bolted connections, pre-galvanized structural steel for fast on-site installation and project aesthetic requirements."