Cenex Announces Attendance By Industry Leaders For 'Naturally Gas' Conference 2007 Vehicle exhibitors to display natural gas run automotives Holywell Park, Loughborough University, Tuesday, 1st May 2007
Cenex Announces Attendance By Industry Leaders For 'Naturally Gas' Conference 2007

Vehicle exhibitors to display natural gas run automotives Holywell Park, Loughborough University, Tuesday, 1st May 2007
Loughborough, 23rd April 2007 - Cenex, the UK's first national centre of excellence for low carbon and fuel cell technologies, has announced the companies exhibiting at the 'Naturally Gas' conference at Holywell Park, Loughborough University, Leicestershire.
Designed for promoting the production and use of natural gas and renewable natural gas (Bio-methane) in low carbon automotive applications, the highlight of the conference programme is the participating companies displaying natural gas vehicles. The event also marks the launch of the National Forum on Bio-Methane as a Road Transport Fuel. Delegates will be able to view a dedicated natural gas Mercedes Econic, currently being trialled by Tesco, a Mercedes Ecovito, and a DAF and a Volvo demonstrating dual fuel technology (capable of running on natural gas and diesel) to get a tangible understanding of these low carbon applications.
Industry leading exhibitors at the conference include: CompAir, Clean Air Power, Hardstaff Group, Organic Power, Earth Tech, Active Compost and Daimler Chrysler.
The event will help to maximise an understanding of the effectiveness of the Low Carbon and Fuel Cell Technology Knowledge Transfer Network (KTN) which promotes communication and knowledge transfer between the many organisations interested in alternative automotive fuel applications.
Speaking on the significance of the event for natural gas users in the automotive sector, Robert Evans, CEO, Cenex said: "Bio-methane and natural gas present totally viable, highly beneficial fuel options for a wide range of vehicles today. The environmental case for harnessing the use of organic wastes to produce bio-methane is indisputable and this event provides a forum for demonstrating the real possibilities whilst bringing together some of the industry's most respected figures to discuss the options and benefits of using low carbon fuels."
More information on the conference can be found at: www.cenex.co.uk/news-industryevents.asp. Companies are welcome to join the forum at the delegate fee of £100 for NSCA and NGVA members and £150 for non-members. To register, please contact Caroline Haine, Marketing Manager, on 01926 462 900 or caroline@ngva.co.uk
Featured Product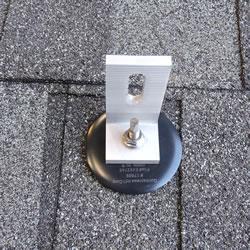 SolarRoofHook's Low Profile QuickBOLT with Microflashing™ is the industry's affordable, UL Certified Asphalt Shingle mounting system. The Microflashing™ is compressed by the collar on the bolt to create a water-tight seal. With an installation time of less than one minute, the Low Profile QuickBOLT allows installers to complete more jobs.