The latest annual rankings of American Wind Energy Association have claimed that there has been a steady growth in market.
AWEA (American Wind Energy Association) has come up with its recent annual rankings that suggest a steady growth in market. "These wind power rankings tell the story of a vibrant industry that is growing fast, competing hard, gaining market share, and all the while powering a cleaner, stronger America," Randall Swisher, executive director with AWEA, said in a statement that ElectricNet published on April 18, 2007.

The rankings released by the Association list the states that produce most power from wind, largest wind farms in the nation, leading wind turbine suppliers, and other information about the wind energy industry. Also included in the rankings of this year is a new category "Congressional districts having most wind-power installed".
However, PTC (Production Tax Credit) for renewable energy needs to be extended for a long term to keep this growth going. Since, the short term extensions in the past have resulted in nothing but a "boom & bust" cycle in this industry, causing costs to go up along the supply chain and averting businesses from attaining their potential growth.
Total installed capacity of wind power in the US is above 11, 600 - enough to meet the energy needs of around three million households on average. Texas - home to three out of five biggest wind farms in the US - uses wind to generate most of its electricity. The city has an installed capacity of 2, 768 Mega Watt (MW). Next to Texas is California with an installed capacity of 2,361 MW, as per AWEA.
RNCOS report "Global Wind Energy Market (2006)" notifies, "Year 2005 saw record rise in the US wind energy industry with almost 2,500 MW new power generating equipments being installed in 22 states. Year 2005 is estimated to be even larger with an estimated installed capacity of 3000 MW."
This research reports "Global Wind Energy Market (2006)" provides extensive research and objective analysis of the Global Wind Energy Industry. Key facts and issues analyzed in the report include: factors leading to success of wind energy, opportunities and challenges for the players of this industry, potential future market in global wind energy, ongoing trends in potential wind energy markets, etc.
About RNCOS E-Services Pvt Ltd.:
RNCOS, incorporated in the year 2002, is an industry research firm. It has a team of industry experts who analyze data collected from credible sources. They provide industry insights and analysis that helps corporations to take timely and accurate business decision in today's globally competitive environment.
For more information visit: http://www.rncos.com/Report/IM077.htm
Current Industry News: http://www.rncos.com/blog
Featured Product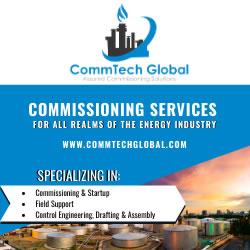 CommTech Global Solutions, LLC, provides professional and reliable commissioning services to customers in all realms of the energy industry. We blend our skills in engineering and technology with innovative business models, offering a complete range of services to assist you for a successful and in compliance operational startup. Consolidation of all our service domains gives our clients a comprehensive set of expertise and far-reaching experience on each project.