- Partnership with leading solar firm extends market reach in Spain and Portugal -
Barcelona Spain -April 24, 2007 - Sustainable Energy Technologies Ltd ("Sustainable Energy" - TSXV: "STG") today announced that it is partnering with Trama Tecno-Ambiental - a leading Spanish solar engineering firm - to provide sales and service support for the SUNERGYTM product in Spain and Portugal. The services include sales and marketing support, project planning; training and certification of local installers and technical support for after sales service.

"Our partnership with Trama Tecno-Ambiental ("TTA") is a key linkage in extending our market reach in Spain and Portugal," said Michael Carten President & CEO of Sustainable Energy. "The partnership enables us to provide strong technical support for the SUNERGYTM inverter during the project design, and very rapid response to request for technical support throughout and following project installation. TTA's extensive network of relationships within Spain and Portugal will also help to introduce the value of the SUNERGY product line to a much wider range of project developers and distributors."
"We are very excited about the SUNERGYTM technology and our partnership with Sustainable Energy," added Xavier Vallve of TTA. "The SUNERGY's ability to convert much higher DC current inputs to grid quality AC at very high efficiencies now enables grid-connected systems to achieve the total system performance and reliability targets that the industry has become accustomed to in off-grid installations. The much lower operating voltage range of the SUNERGYTM also provides an option for system designers, where there is concern about accidental encounters with the industrial level voltages normally found with current technologies."
About Trama Tecno-Ambiental
Based in Barcelona, Spain, TTA (www.tramatecnoambientale.es) has been providing independent photovoltaics systems engineering and architectural services for more than 20 years, specializing in micro-generation and building integrated solar systems. TTA is also known worldwide for its work in rural electrification in micro grids and hybrid solar systems in Latin American, North Africa and Oceania.
About Sustainable Energy
Based in Calgary Alberta, Sustainable Energy (www.sustainableenergy.com) develops manufactures and markets advanced power inverters for the renewable energy industry. Power inverters are strategic to the integration of new renewable energy technologies - solar and wind power, fuel cells, and energy storage systems - into the high quality power demands of the modern electrical grid.
Certain statements contained in this press release may be considered as forward-looking. Such forward-looking statements are subject to risks and uncertainties that could cause actual results to differ materially from estimated or implied results.
Featured Product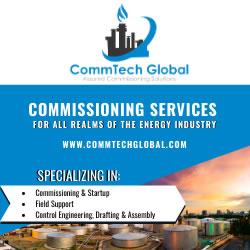 CommTech Global Solutions, LLC, provides professional and reliable commissioning services to customers in all realms of the energy industry. We blend our skills in engineering and technology with innovative business models, offering a complete range of services to assist you for a successful and in compliance operational startup. Consolidation of all our service domains gives our clients a comprehensive set of expertise and far-reaching experience on each project.