KLD and Fixed Income Securities Partner to Launch First Unit Investment Trust (UIT) Based on the KLD Global Climate Change 100 Index * * * Trust Created in Response to Increased Demand for Climate Change Investment Solutions
Contact: Amy Blumenthal/Karen Myers Blumenthal & Associates

617-879-1511
Or
Chris McKnett
KLD Indexes 617-426-5270 x218
Boston, MA, May 2, 2007 - KLD Research & Analytics, Inc., together with Fixed Income Securities, L.P (FIS), today announced that it has licensed the KLD Global Climate 100SM Index (GC100), the world's first global index focused on the climate solutions value chain, for a unit investment trust. The trust, which deposited on April 24, 2007, is the first investment product based on the GC100 Index available to U.S. investors.
FIS, acting through its Advisors Asset Management (AAM) division, is sponsoring the UIT, called the KLD Global Climate 100 Index Portfolio, Series 1 (ADT 127). The trust will seek to provide above average total return primarily through capital appreciation by investing in a portfolio of the stocks included in the GC100 Index.
"Our clients have been asking us to bring a product to market that has the potential to benefit from society's desire to limit its impact on the planet," said Mike Boyle, Senior Vice President of Advisors Asset Management. "Until now we have been unable to find a solution that was adequately researched and diversified. We believe that a trust based on the KLD Global Climate 100 Index should be a compelling investment option."
"While the companies in the GC100 Index alone won't solve global warming, the Index focuses investors' attention on where the possibilities lie," said Peter Kinder, president of KLD. "Increasingly, institutional and individual investors recognize that climate change is an investment issue - not just an environmental issue."
The GC100 Index is based on the concept of the "climate solutions value chain." Companies in the climate solutions value chain are positioned to benefit from increasing constraints on carbon, high fossil-fuel prices, rising energy demand, and a growing acknowledgement of climate risk.
The Index is a basket of companies that provides exposure to global companies providing climate solutions. The GC100 Index seeks to include companies representing a range of corporate responses to climate change, including a group of large-, mid-, and small-cap companies from sectors ranging from energy and utilities to industrials and consumer products.
The Index provides a diversified solution to climate change by capturing leading firms engaged in supply, demand or enabling of renewable energy, future fuels, and clean technology and efficiency.
The KLD Global Climate 100 Index was created in response to the growing demand from institutions and individuals for investment strategies that address the risks and opportunities associated with global warming. Initially developed in partnership with GENI, the Global Energy Network Institute, KLD launched the GC100 Index on July 1, 2005. Since inception through March 31, 2007, the GC100 Index has produced a 42.4% cumulative total return, with a standard deviation of 12.41 and a Sharpe Ratio of 1.45. As of March 2007, GC100 Index constituents represent 15 countries, nine sectors and over $2.3 trillion in market capitalization.
About KLD Indexes
KLD Indexes provides indexes that are accepted as the standard for defining strategies and benchmarking investments that integrate environmental, social and governance factors. Investors, trustees, and consultants depend on the quality and integrity of KLD indexes, which are designed to be transparent, representative and investable. Since launching the Domini 400 SocialSM Index in 1990, the first SRI index, more than $9.5 billion is now invested in funds based on KLD's family of six indexes. KLD Indexes is a division of KLD Research & Analytics, Inc. For more information, visit www.KLDIndexes.com.
Contact: Amy Blumenthal/Karen Myers
Blumenthal & Associates
Email: amyb@blumenthalpr.com;
or kmyers@blumenthalpr.com
Tel. 1-617-879-1511
About FIS/AAM
Advisor's Asset Management (AAM) is a division of Fixed Income Securities LP (FIS), a broker/dealer, member NASD, SIPC and registered investment advisor. Through its AAM division, FIS sponsors Unit Investment Trusts (UITs) termed Advisors Disciplined Trusts or ADTs. With over $2.7 billion in assets under supervision, AAM provides financial professionals efficient access to the financial markets. The firm specializes in providing innovative products, portfolio analysis and customized investment strategies. Established in 1979, FIS has major offices in California, Colorado, Illinois, Kansas, New York and Texas with a staff of well over 200 investment professionals nationwide. Further information about the products and services provided by AAM can be found at www.AAMportfolios.com.
UITs are sold only by prospectus. To inquire about investing in the trust, please contact your financial advisor.
Contact: Clara Villalobos
Vice President, Manager ADT Sales
Advisors Asset Management
(866) 606-7220, x16447
cvillalobos@aamportfolios.com
###
Featured Product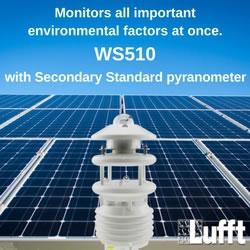 Professional weather sensors form the heart of large solar plants supporting their operation and performance. Lufft was the first manufacturer to combine several sensors in one housing, bringing the largest multiparameter weather sensor family with 19 members into being. Many of them are well-suited for solar site assessment and continuous monitoring. The most commonly used one is the WS600 delivering data on temperature, air pressure, wind, relative humidity and precipitation. Through its open protocol, it can easily be attached to radiation sensors e.g. from Kipp&Zonen. Other models have an integrated Silicon, Second Class or Secondary Standard radiation sensor.