An agreement with Dueco, Inc., to develop a proprietary plug-in hybrid electric vehicle propulsion system optimized for aerial lift truck applications.
Hauppauge, New York - May 3, 2007 - Odyne Corporation (OTCBB:ODYC), a leading developer of advanced plug-in hybrid electric vehicle (PHEV) technology for trucks and buses, today announced an agreement with Dueco, Inc., to develop a proprietary plug-in hybrid electric vehicle propulsion system optimized for aerial lift truck applications.

Dueco can incorporate this propulsion system for customers requesting plug-in hybrid electric aerial lift trucks. Dueco's customers require trucks with aerial lifts enabling workers to make repairs on equipment like traffic lights, elevated power lines or telecommunication cables. These customers include utilities, telephone and cable companies, electrical contractors, tree-trimming companies, railroads, the military and the government.
Roger M. Slotkin, CEO of Odyne Corporation, commented, "We are pleased to have formed this important alliance with Dueco, which has established an impressive presence and reputation of quality for over 50 years. In order to operate the vehicle systems during the long time periods that Dueco's customers perform work at elevated levels, the engine must be idling in a conventionally powered vehicle. Odyne addresses the unique challenge to eliminate engine idling. By installing our technology, Dueco's trucks can be plugged into the power grid at night, providing enough power to work at job sites with the engine off, thus reducing pollution and fuel use. We look forward to a long and productive relationship with Dueco."
Thomas Dalum, CEO of DUECO, stated, "Odyne's technology is important to our industry and the environment. We are pleased to be able to offer our customers a cost-saving and environmentally friendly vehicle to address their needs. We believe that Odyne's focus on plug-in hybrid electric vehicle technology will be especially beneficial for utilities. The ability to use "off-peak" domestic electric power to recharge the system will increase fuel economy and reduce pollution. Odyne's ability to customize its technology to meet our customers' unique specifications makes us an important resource for companies and entities seeking a better solution."
About Odyne Corporation
Odyne Corporation is a clean technology company that develops and manufactures propulsion systems for advanced Plug-in Hybrid Electric Vehicles (PHEV), specifically for medium and heavy-duty trucks and buses. The company has developed a proprietary system combining electric power conversion, power control and energy storage technology, with standard electric motors, storage batteries and other off the shelf components to create a lower fuel cost, lower operation and maintenance cost, substantially lower emission and quieter vehicle. . Visit www.odyne.com for more information.
About Dueco, Inc.
DUECO, the largest privately owned final stage manufacturer of Terex Utilities and Hi-Ranger products in the country, is a family company with over 50 years of experience in the sale and service of aerial devices, digger derricks, cranes and other equipment. The company also provides its customers with conductor handling equipment, pullers and tensioners, trailers, excavators, loader backhoes, wheel loaders. Committed to customer satisfaction, DUECO is the source for electric utility, telecommunications, contractor, electric cooperative, municipality, railroad and tree care needs in a 14-state region that reaches from the Midwest to the East Coast.
Forward-Looking Statements
This news release contains certain "forward-looking statements," related to the business of Odyne which can be identified by the use of forward-looking terminology such as "believes," "expects" or similar expressions. Such forward looking statements involve known and unknown risks and uncertainties, including uncertainties relating to product development and commercialization, regulatory actions or delays, the ability to obtain or maintain patent and other proprietary intellectual property protection, market acceptance, future capital requirements, competition in general and other factors that may cause actual results to be materially different from those described herein as anticipated, believed, estimated or expected. Certain of these risks and uncertainties are or will be described in greater detail in our filings with the U.S. Securities and Exchange Commission. Odyne is under no obligation to (and expressly disclaims any such obligation to) update or alter its forward-looking statements whether as a result of new information, future events or otherwise.
* * *
Featured Product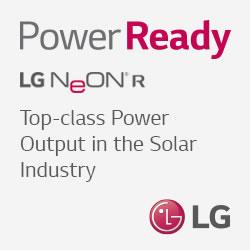 The NeON R module features "Back Contact" cell technology delivering an entirely black panel that is aesthetically pleasing and energy efficient. The cell's seamless, surface blends perfectly into nearly all rooftop designs while the module's electrodes are positioned on the rear of the cell. Using LG's N-type cell structure, the panels produce 365W of energy, up to 7.3kWp, compared to 5.8kWp of the p-type cell. The module's new design minimizes LID, thereby delivering a longer lifespan and increased energy output.