ESCO Institute, the industry leader in training and certification has, joined the Green Mechanical Council.
ESCO Institute, the industry leader in training and certification has, joined the Green Mechanical Council.

ESCO Institute provides: Text Books, Instructors Guides, Training Manuals, Multimedia, Assessments and Certifications to the HVACR Industry. ESCO Institute is committed to the Green Movement and will work with the Green Mechanical Council and their member to accomplish their goals.
The mission of the Green Mechanical Council is to:
Educate the public about the benefits and value of green mechanical systems, bringing these concepts into the "mainstream" of ideas for new construction and existing building upgrade decisions.
Protect the legacy of future generations by uniting diverse stakeholders in the advancement and promotion of sustainable, energy efficient and environmentally responsible planning, design, installation, service and operation of mechanical systems.
Promote the development and implementation of green (environmental friendly) mechanical system concepts, technologies, and principles by Council members.
Establish and adopt standards and certifications for products, technicians, and processes that effectively reduce energy consumption while maintaining and improving current lifestyles.
Work with government in developing enforceable standards for environmentally sustainable mechanical systems.
Provide resources and instructive feedback to developers and manufacturers of green products to encourage continuous improvement of their products and systems.
Collaborate with and provide technical guidance on building mechanical systems to our various counterparts that provide "Green" evaluative criteria used as benchmarks to rate the environmental impact of products and services.
Provide Council members with leading-edge educational information via a centralized, content-managed portal.
For more information on ESCO Institute, visit them online at www.escoinst.com for additional information on the Green Mechanical Council visit them online at www.greenmech.org or call them toll free at (877) 347-3360.
Featured Product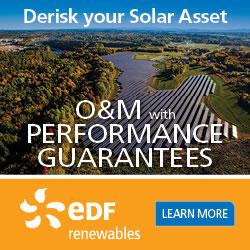 EDF Renewables offers the same innovative solutions that maximize the performance of our own 5.2 GW of installed projects. Because we're not an equipment manufacturer, our recommendations are transparent and data-driven. We cover the entire project lifecycle: from pre-commissioning support, through warranty and post warranty operation, to late stage and decommissioning.