First international meeting in the U.S. to focus on biomass and waste to profit
America's first international exhibition and conference on energy from biomass and waste (EBW) will enjoy strong support from sponsors and partners. Sponsors include: the Pennsylvania Department of Environmental Protection; Green Power, Inc.; West Penn Power Sustainable Energy Fund, Inc.; Herbert, Rowland & Grubic, Inc.; The Pennsylvania State University; and media sponsor Biomass Magazine. EBW, which will be held on September 25-27, 2007 at the David L. Lawrence Convention Center in Pittsburgh, PA, is also supported by the Pennsylvania Department of Agriculture; Steel City Biofuels; and the Ministry for Economic Affairs and Energy of the State of North Rhine-Westphalia, Germany.

"Converting biomass and waste to profit" is the theme of the trade show and seminar program. EBW's mission is to educate all relevant stakeholders about the ecological and economical benefits of clean energy, and to create an international marketplace for bioenergy and energy-from-waste technologies in Pennsylvania. The event is organized by Freesen & Partner GmbH, a Germany-based consulting and event management firm with partner offices in Europe and in the United States.
"The Biomass Energy Center at Penn State coordinates and facilitates research and outreach across the University, building teams to address the complete value chain of biomass energy systems," says Tom Richard, Director of the Biomass Energy Center. "We support EBW because the event's mission coincides with our goals. We welcome the opportunity to network with companies, state agencies, nongovernmental organizations, and citizens throughout the Commonwealth and beyond."
The Penn State Industrial Research Office is the University's gateway to innovation, available to assist companies in accessing research opportunities from centers such as the Biomass Energy Center, Hydrogen Energy Center, and the Center for Sustainability. Personal attention is given to company representatives to assess their technical needs and facilitate linkages to appropriate Penn State resources.
"We are very pleased to have strong partners such as Penn State supporting our venture," says Dr. Ines Freesen, Managing Director of Freesen & Partner. "Their commitment is testament to the importance of the event. EBW will bring together two industries which may seem diverse - bioenergy and waste management - but they have a lot in common when it comes to clean, reliable energy from domestic resources."
The "energy from biomass and waste" (EBW) Expo & Conference is held on September 25-27, 2007 at the David L. Lawrence Convention Center, Exhibit Hall B, in Pittsburgh, PA. More information is available on: www.ebw-expo.com
About Freesen & Partner GmbH:
Freesen & Partner is a consulting and event management firm servicing the energy and environmental markets. Trade shows put together by Freesen & Partner include: "energy from biomass and waste" EBW Expo & Conference on September 25-27, 2007 in Pittsburgh, PA; "waste to energy" WTE exhibition & conference on energy from waste and biomass on December 10-11, 2008 in Bremen, Germany; Hydrogen Expo US, held with the National Hydrogen Association's Annual Conference on March 30-April 3, 2008 in Sacramento, CA. On various projects Freesen & Partner joined forces with partners such as the National Hydrogen Association (NHA); the Fraunhofer Institute for Environmental, Safety and Energy Technology (UMSICHT); and the Fraunhofer Institute for Solar Energy Systems (ISE).
Contact information:
Freesen & Partner GmbH
Dr. Ines Freesen
Schwalbennest 7a
46519 Alpen, Germany
Tel.: +49-2802-948484-0
Fax: +49-2802-948484-3
info@ebw-expo.com
North American office:
McNabb Marketing Resources
East Coast Contact: Tomlin Coggeshall, tc@ebw-expo.com
West Coast Contact: Dave Jackson, dj@ebw-expo.com
Tel.: 207-236-6196
Fax: 207-236-0369
Featured Product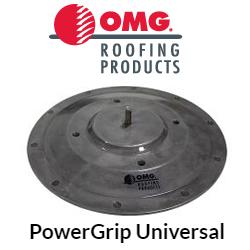 Eliminate Solar Rack Ballast and Reduce Rooftop Material Handling. PowerGrip™ Universal (PGU) is a commercial roof mount system designed to secure solar racks and other equipment to any type of commercial roofing system. PGU provides a secure connection directly to the roof deck or structural members and is designed to reduce or eliminate ballast in solar racking systems, so there's less weight on the roof and less material handling. Made of heavy-duty cast aluminum, PGU units include a base ring which is secured through the roofing cover and into the structural roof deck, and a waterproof top plate.