The Clean Energy Markets Division of Conservation Services Group creates new Deputy Director position, reflecting growth in alternative energy sector. Jill D. Winans is named to the post, according to CSG Chairman and CEO, Stephen Cowell.
WESTBOROUGH, Mass., June 5, 2007 -- Stephen L. Cowell, chairman and chief executive officer of Conservation Services Group (CSG), today announced the appointment of Jill D. Winans as deputy director of the company's Clean Energy Markets Division. In this newly created position, Winans oversees the division's legal, policy operations and business development teams. She is also responsible for expanding the market for CSG's alternative energy products and services.

Winans brings extensive legal expertise and business ownership experience to CSG. Most recently, Winans was an attorney for six years with the law firm of Gust Rosenfeld, PLC, in Tucson, Arizona. There, she helped her clients with public works acquisitions and infrastructure development projects. She also worked with state and federal agencies on public finance projects. Prior to joining Gust Rosenfeld, Winans served as an attorney in the Law Office of Mary C. McDonald, in Glendale, Ariz., where she specialized in pre-trial litigation and settlement negotiations.
An avid equestrian, Winans began her career as the owner and operator of a dressage sport horse business in Tucson, where she ran the business for 12 years.
Cowell, said, "Jill's experience will help CSG and its customers effectively navigate the ever changing landscape of the renewable energy field and the complexities of the market. The Clean Energy Markets Division is one of the fastest growing areas of our company and we are confident she will identify and build opportunities for expansion in this exciting area."
Winans is a graduate of the University of Arizona, where she received a B.S.B.A. and a J.D. A California native, Winans currently resides in Natick, Mass.
Conservation Services Group, based in Westborough, Mass., is a non-profit energy services firm with 12 offices nationwide. CSG has been providing energy saving
strategies and technologies to consumers and businesses since 1984.
Featured Product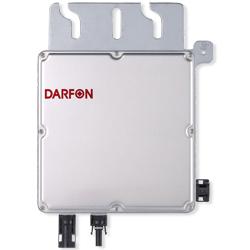 The Darfon G320 is the microinverter solution for today's high-power solar modules. The G320 handles 60- and 72-cell modules up to 350W DC and outputs up to 300W AC. The G320's 3-phase configuration accommodates the electrical distribution systems of most commercial buildings and to reduce, if not eliminate, the need for expensive transformers. The G320 comes in four voltage/phase configurations, so it can be installed in residential, commercial or utility applications.