As the world resorts to increase biofuels' production to sustain its energy supplies and to bring pollution under control, water resources may shrink in near future.
As per a recent report "Biofuel Market Worldwide (2007-2010)" published by RNCOS, it has been found that the biofuel market would increase at a CAGR of about 13% to reach almost US$ 53.3 Billion by 2015.

Production of biofuel would also spur the demand for agricultural-land at the cost of natural ecosystem. In countries struggling with the problem of inadequate water supplies, increasing agricultural output of biofuel is further expected to put more pressure on water resources.
According to a study conducted by the Sri Lankan International Water-Management Institute, at a global average, 1000-4000 liters of water is evaporated by the biomass needed for producing one liter of biofuel. The quantity of water that evaporates during this process depends on the feedstock and conversion technique that's used. Thus, water scarce countries may face serious challenges while meeting the anticipated increase in the demand for food as well as further growth spurred by the growing production of biofuel. Some Parts of India and China have previously violated the confines of acceptable water use without any attempt to produce more quantities of biofuel.
Biofuel is not going to be environmentally sustainable until alternatives that require less use of water for feedstock is considered. Its time to question the biofuel production taking water concerns in the forefront.
As per the RNCOS report "Biofuel Market Worldwide (2007-2010)", "Shrinking output of oil from nearly all the oil reserves is the major cause why most countries throughout the world are finding renewable energy sources as their ultimate respite. Growing consumption of energy, and environmental concerns has now shifted the focus of governments towards biofuel for transportation."
The report attempts to answer key questions such as, opportunities that exist for Biofuel in the global market, key drivers and other factors influencing the expansion of biofuels in the world, various government support programs and major biofuel projects, etc.
About RNCOS E-Services Pvt Ltd.:
RNCOS, incorporated in the year 2002, is an industry research firm. It has a team of industry experts who analyze data collected from credible sources. They provide industry insights and analysis that helps corporations to take timely and accurate business decision in today's globally competitive environment.
For more information visit: http://www.rncos.com/Report/IM508.htm
Current Industry News: http://www.rncos.com/blog
Featured Product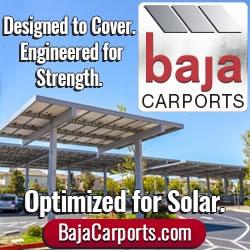 Baja Carports offers an extensive solar support system product line customized to customers' site specifications by in-house engineers, meeting their parking lot coverage, plus optimal PV production needs. Baja's Full Cantilever Tee is often paired with its Semi and Full Cantilever carports to meet live/loads up to 60psf and wind speeds to 160mph. All Baja products are pre-fabricated, bolted connections, pre-galvanized structural steel for fast on-site installation and project aesthetic requirements."