Company's Core Commercial Products Now Available to Federal Agencies
Company's Core Commercial Products Now Available to Federal Agencies

Marysville, OH - June 12, 2007 -- UniKeep LLC, manufacturer of innovative, patented and environmentally friendly binders, media storage and marketing mailers, is pleased to announce it has been awarded GSA Contract #GS-02F-0093T. All of UniKeep's core commercial products are now available for online purchase at www.gsaadvantage.gov.
"Placing UniKeep's award-winning, environmentally friendly products on the GSA Schedule will make it easy for federal customers to make environmentally-oriented procurements. This is in keeping with GSA's policy to offer products that comply with all federal environmental regulations," stated Ross Youngs, UniKeep CEO. "We have always strived to create environmentally responsible products and are pleased that the U.S. government acknowledges our efforts," Youngs added.
UniKeep, a certified Small Business with products made in the USA, has been environmentally conscious since its inception. The company firmly believes in the conservation of both ecological and economical resources. UniKeep's 100% polypropylene products are manufactured with clean technologies and use no PVC. Polypropylene is also resistant to chemical attack, offers a wider temperature range, and is a choice material for long-term archival needs. Thus, UniKeep Binders are durable for years of use and re-use, with the added benefit of being recyclable with no conversion required. The Enviro Binder can be manufactured with up to 85% recycled content.
Unique features and construction make UniKeep Binders more functional for meeting kits, packages, presentations and proposals. The fully enclosed binders and disc wallets are completely injection-molded. They snap shut and are stackable, lightweight, moisture resistant and cost effective. All are PVC-free and most are metal free for easy security screening.
Clear poly EnvyPak' envelopes manufactured by UniKeep are ideal for mailing and storage. They are the clear choice when the message or contents need to shine through. EnvyPak envelopes meet USPS requirements and specifically comply with UFSM 1000 and AFSM 100 automation criteria. All EnvyPak mailers have been tested by the American Standard Testing Method (ASTM) and meet all Domestic Mail standards for the United States Post Office.
By special order, EnvyPak envelopes can be custom manufactured using 100% compostable and biodegradable PLA corn poly, a renewable resource bioplastic.
About UniKeep
UniKeep' brand binders, accessories and clear poly EnvyPak' mailing products allow users to make environmentally-sound choices for storage and presentation without sacrificing durability or functionality. Their polypropylene products require as much as 30% fewer materials to manufacture than traditional vinyl. This avoids the toxic waste generated in both the manufacture and elimination of PVC.
UniKeep products are also available nationwide in xpedx/Arvey retail stores and through office products or promotional products dealers.
The company is headquartered in Marysville, Ohio. For additional information, call toll free (800) 829-8117, write marketing@unikeep.com, or visit its web site at www.unikeep.com/gov.
—30—
UniKeep Press Contact:
Doris Emich
Antarra Communications
(856) 626-0190
demich@antarra.com
UniKeep Corporate Contact:
Chad Hummell
Manager/ Government Sales
UniKeep LLC
937-645-4680
chummel@unikeep.com
(c) 2007 UniKeep LLC. All rights reserved. Specifications are subject to change without notice. All other trademarks are the property of their respective companies.
Featured Product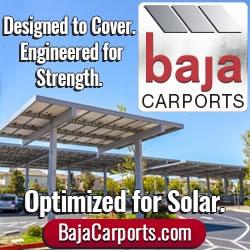 Baja Carports offers an extensive solar support system product line customized to customers' site specifications by in-house engineers, meeting their parking lot coverage, plus optimal PV production needs. Baja's Full Cantilever Tee is often paired with its Semi and Full Cantilever carports to meet live/loads up to 60psf and wind speeds to 160mph. All Baja products are pre-fabricated, bolted connections, pre-galvanized structural steel for fast on-site installation and project aesthetic requirements."