Miles Automotive Groups line of Electric Cars are now available and in stock at Motorworks Clean Vehicles, Inc. Presently located in Westbury, Long Island, New York, Motorworks Clean Vehicles, Inc. has plans to build a new showroom and service department for their Clean Vehicles.
Motorworks Clean Vehicles, Inc.

Motorworks Clean Vehicles, Inc., a division of Motorworks Engine Center, currently located in Westbury, Long Island, New York, has entered into a Dealer agreement with Miles Automotive Group to distribute their line of Zero Gas, Zero Emissions, All Electric Cars. Neighborhood Electric Cars(NEV'S) are currently available immediately, pick up truck versions will be introduced in September and long range highway speed cars will be available in 2008.
Motorworks, a stakeholder in the Greater Long Island (GLICCC) and New York City Clean Cities Coalitions, and Miles Automotive believe that global society must quickly and substantially alter its transportation systems to assure a livable world for future generations.
Superior Safety, Performance & Comfort
Unlike golf carts, golf cart type vehicles, quadricycles, tricycles, so called "electric motorcycles" and micro-cars, which have used the limited low-speed requirements of NHTSA/FMVSS Standard 500 to market low-end and often unsafe products in the U.S., Miles Automotive has carefully designed, engineered and now brought to market safe, sturdy and reliable, nonpolluting all-electric low speed vehicles uniformly acknowledged to be real cars. Miles Automotive vehicles are vastly superior in safety, performance, and comfort when compared to all other low speed vehicles.
The chassis for the Miles Automotive low speed vehicles has been engineered from the popular Daihatsu Move of which over 500,000 vehicles have been sold in internal combustion configuration, primarily in Europe. This chassis has been successfully crash tested for safety to E.U. Standards. All Miles Automotive vehicles are fully compliant with NHTSA/FMVSS Standard 500 and are CARB approved.
Each vehicle has:
• Sturdy Steel Construction Throughout
• Crash Resistant Bumpers
• Reinforced Steel Side Panels
• Steel Beam Reinforced Doors
• DOT Compliant Tempered Safety
Glass Throughout
• DOT Compliant Tires
• DOT Compliant 3-Point Seat Belts
• Superior Braking Ability
• Master Disconnect Switch
• Emergency Brake Warning Buzzer
• Manual Rear Door Child Safety Locks
• Front & Rear Fog Lights
• Adjustable High Beam Lights
• High-Mounted Brake Light
• Fully Lockable Doors
• Impact Absorbing Steering Column
• Cockpit Fully Water Resistant & Air Tight
Safety
• All-Electric
• Plug-In Anywhere
• No Emissions or Hydrocarbons
• CARB Zero Emissions Vehicle (ZEV) Rating
• Advanced, Sealed, Absorbed Glass Mat,
Valve Regulated, Maintenance Free Battery
• Battery Maintenance System to Extend
Battery Life & Reduce Charge Time
• Running Time 3-4 hrs
• Charging Time -
From 50% Discharged to Fully Charged
3-5 hrs (ZX40) 4-6 hrs (ZX40S)
• Extended Battery Life -
30,000 miles (ZX40S) 20,000 miles (ZX40)
• Excellent Acceleration (0-20 mph) -
3 seconds (ZX40S) 11 seconds (ZX40)
• Superior Range -
60-70 miles (ZX40S) 40-50 miles (ZX40)
• Intelligent Onboard Charger with
Automatic Shut-off
• Full Warranty for 18 Months
• Optional 18 Month Extended Warranty
• Length 133.7" Width 58" Height 66.7"
Performance
• Heater
• Optional Evaporative Cooling System
• Vinyl, Leather Trimmed Seats
• 2 or 4 Seat Models
• AM/FM/CD Audio System
• Dome Light
• Roomy Interior with High Head Room
• Ultra-Quiet Interior
• Adjustable Reclining Seats
• 12 Volt Accessory Power Outlet
• Rear Cargo Tie-Down Netting
• Cargo Space - 35 to 41 Cubic Feet
• Front & Rear Windshield Wipers & Washers
• Front and Rear Defrosters
• Electric Side Mirrors
• Easy to Read Digital Instrument Cluster
with Dual Voltage Readout
• Cup Holders
• Weather Resistant Paint Throughout
COMFORT
Superior Safety, Performance & Comfort
Motorworks Clean Vehicles, Inc
111 Bond Street
Westbury, NY 11590
1-866-527-2669
516-333-6600
Car models, details and information: www.CleanVehiclesNY.com
For more information, please contact: Gary Birke
Phone Number : 1-866-527-2669
Featured Product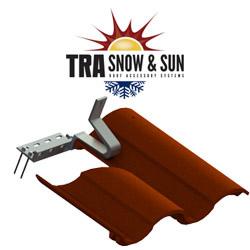 You haven't installed a tile mount that is easier to install than the Solar Tile Mount manufactured by TRA Snow and Sun. Solar Tile Mount is used on all tile roof profiles: flat, mid, and high. It is made in the USA of aluminum alloy for strength and excellent corrosion resistance. Solar Tile Mount is built to allow more ease in installation with more rise from the tile surface to the rail for better air flow below panels. The adjustable base is longer than most allowing attachment 6" to the left or right to have the bracket in the base of the pan of the tile and still fasten to the rafter. Solar Tile Mount is adjustable for counter batten systems from ¾" to 3". The horizontal rail is directly above base fasteners giving greater uplift resistance than any other system. For superior waterproofing apply TRA Snow and Sun's butyl backed VersaFlash aluminum flashing. No tile flashing is needed on top of the tile for greater labor and material cost savings.