State of Hawaii approves $10 million dollars for Sopogy solar farm bonds. This will be used for the construction of a solar farm power plant at the Natural Energy Laboratories of Hawaii.
Honolulu, HI - Sopogy, Inc. announced today it received Governor Linda Lingle's approval for the issuance of special purpose revenue bonds. Act 229 authorizes the issuance of $10,000,000 in special purpose revenue bonds to Sopogy Inc., to assist with planning, designing, constructing, equipping and operating a solar farm power plant at the Natural Energy Laboratory of Hawaii Authority or another suitable site in Hawaii.

"This is an important step in supporting renewable energy and helps break Hawaii's bonds to imported fossil fuels. We commend the leadership and vision of Vice Chairman Jon Riki Karamatsu who authored the bill, the 2007 Hawaii State Legislature, and Governor Linda Lingle" said Darren T. Kimura, President and CEO of Sopogy Inc.
NELHA (Natural Energy Laboratory of Hawaii) is an important location for this project as it has some of the highest solar energy of any coastal location in the USA. With new technology companies seeking its unique deep ocean water comes new electric power needs. "Sopogy's clean power solutions will help NELHA continue to grow, while achieving the energy park's mission and focus on natural energy. We are excited to lead the next generation of renewable energy research at the park and look forward to working with Hawaiian Electric in making this clean solar power project a reality" added Kimura.
About Sopogy, Inc.
Sopogy, Inc. (www.sopogy.com) is dedicated to enabling the renewable energy economy by dramatically increasing energy production through widespread use of its Concentrated Solar Power (CSP) technologies. Sopogy offers a cost-effective method for producing process heat used to create electricity, air conditioning, steam and hot water.
Featured Product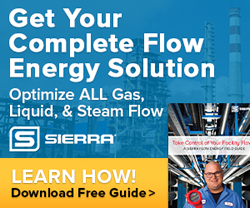 Download Flow Energy Guide - Written by Engineers For Engineers. Learn how to save on energy costs by optimizing your facility flows that impact costs like compressed air, natural gas, steam, and hot or chilled water.