Introducing Canada's home for green jobs, internships and volunteering, GoodWorkCanada.ca.
~~~~~~~~~~~~~~~~~~~~~~~~~~~~~~

An invitation from GoodWork Canada
-- Canada's Green Job Site Since 2001
~~~~~~~~~~~~~~~~~~~~~~~~~~~~~~
Since 2001, GoodWork has been supporting the green
community by connecting passionate, green-minded people
with meaningful opportunities to contribute and be employed.
www.GoodWorkCanada.ca
INDIVIDUALS: Browse green jobs, internships or volunteer
postings online. Or subscribe to receive daily updates
from our national or regional e-mail lists.
EMPLOYERS: GoodWorkCanada.ca is frequented by many
of the most inspired and experienced green-minded Canadians
-- from interns to executive directors. Hundreds of employers
have told us that they got by far the best response from
GoodWork. Our e-mail list of over 5,000 green-minded
people helps spread the word far and wide. And our sliding
scale approach means that no listing is refused because of
inability to pay.
Reach out to Canada's eco-community! To learn more, see
www.GoodWorkCanada.ca or contact us for more
information.
- Peter Blanchard
--
GoodWork Canada
www.GoodWorkCanada.ca
environment ~ conservation ~ sustainability
employment ~ internships ~ volunteering
Featured Product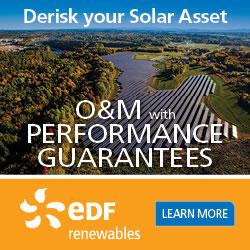 EDF Renewables offers the same innovative solutions that maximize the performance of our own 5.2 GW of installed projects. Because we're not an equipment manufacturer, our recommendations are transparent and data-driven. We cover the entire project lifecycle: from pre-commissioning support, through warranty and post warranty operation, to late stage and decommissioning.