Modesto resident Mike Parker has been invited by Pennsylvania non-profit Bucks County Renewables to teach a 10 day workshop to automotive technology teachers and electric vehicle enthusiasts.
Lansdale, PA - July 24, 2007

Modesto resident Mike Parker will travel to Pennsylvania at the end of July to bring his expertise on electric vehicle conversions to the East Coast. Parker has been invited by Pennsylvania non-profit Bucks County Renewables to teach a ten-day workshop to a group of automotive technology teachers and electric vehicle enthusiasts. Participants in the workshop will convert a 1985 Volkswagen Vanagon to an electric vehicle (EV) that will run exclusively on batteries and charge on ordinary household current.
This workshop is the first of its kind on the East Coast. Parker, a long-time EV advocate and teacher at the Turlock Adult School, has been offering similar courses in his home state on on how to transform gas-guzzling vehicles into quiet, non-polluting commuter cars. "Electric cars and clean air - what a concept!" is his slogan.
Environmental activist Jenny Isaacs saw a video on the internet of the class Parker co-taught last summer at San Dieguito High School Academy in Encinitas, CA, and immediately invited him to teach a similar workshop targeted to automotive technology teachers in the Greater Philadelphia region. The workshop will run from July 30 - August 8. A local vo-tech has provided its auto shop, and four of its faculty members are among the teachers taking the class.
Isaacs hope is that this seed program will help jump-start systematic training programs for electric vehicle conversion and maintenance in Pennsylvania. She will also use the converted van as a teaching tool, visiting schools and environmental festivals to deliver the message that electric vehicles charged by renewable energy sources can reduce air pollution, greenhouse gas emissions, and dependence on foreign oil.
Isaacs points to the popularity of hybrids and the development of prototype electric vehicles like GM's Chevy Volt in observing that electric drives and batteries will be increasingly common in production vehicles. By putting this information into the hands of auto tech teachers, she says, "Mike Parker is helping equip the automotive students of today with the skills to maintain the vehicles of tomorrow."
CONTACT:
Jennifer Isaacs, Director
Bucks County Renewables
10 Granite Way
Ottsville PA 18942
(610) 847-4908
jisaacs@buckscountyrenewables.com
Featured Product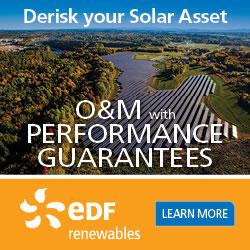 EDF Renewables offers the same innovative solutions that maximize the performance of our own 5.2 GW of installed projects. Because we're not an equipment manufacturer, our recommendations are transparent and data-driven. We cover the entire project lifecycle: from pre-commissioning support, through warranty and post warranty operation, to late stage and decommissioning.