A low cost solar lantern which easily converts into a powerful reading light.
The South African, Cape Town based company, SolEnergy Africa (Pty) Ltd has recently launched a small, yet versatile solar lantern specifically designed to meet the needs of the under privileged on the African Continent.

Managing Director of SolEnergy, Colin Wilkinson, explained that the lantern had been designed to offer a low cost light source to rural communities where electrical power was not available and for the informal settlements which house millions of people around the African continent.
"We wanted a lantern that could light a small room in a rural hut or informal settlement shack and which would help eliminate the risk of shack fires. Which are responsible for the deaths of thousands each year throughout Africa. But more than anything we wanted to provide a light source that would allow school going children to read and do home work at home in the evenings."
The lantern is being retailed at under US$10.00 and has already been supplied to over 14 African countries.
Featured Product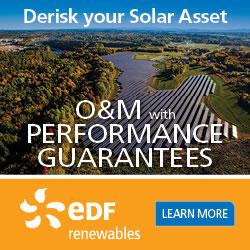 EDF Renewables offers the same innovative solutions that maximize the performance of our own 5.2 GW of installed projects. Because we're not an equipment manufacturer, our recommendations are transparent and data-driven. We cover the entire project lifecycle: from pre-commissioning support, through warranty and post warranty operation, to late stage and decommissioning.