The PICNIC Green Challenge is a competition where green entrepreneurs can win 500.000 euro for the best idea for a CO2 reducing product or service. Organised by the biggest Dutch Charity Lottery, it aims to give new, practical solutions a boost.
The PICNIC Green Challenge, a creative international competition hosted by the Dutch Postcode Lottery and cross-media event PICNIC, is pleased to announce that Sir Richard Branson (The Virgin Group) will chair its jury. "This contest is going to help people to realise how much they are capable of," he says. "Great things really do come out of simple ideas."

Also serving on the jury will be Avery Baker (EVP Global Marketing and Communications Tommy Hilfiger), Steve Howard (CEO The Climate Group), Peter ter Kulve (Senior Vice President Ice Cream Category Unilever), John Thackara (Director Doors of Perception), Liesbeth van Tongeren (Executive Director Greenpeace Netherlands) and Eckart Wintzen (Founder Ex'tent Green Venture Capital). All members are closely involved with green projects and/or accomplished players in the business world. Together, they will choose the winner on 29 September 2007.
The PICNIC Green Challenge calls on creative, innovative minds to come up with concrete solutions to fight climate change. Anyone with a good idea for a product or service that reduces greenhouse gas emissions in a consumer-friendly way and contributes to a sustainable lifestyle is welcome to take part. Each entry must be supported by a concrete plan to bring the idea to market within two years.
The Dutch Postcode Lottery will provide €500,000 for the execution of the winning plan. The winner will also receive coaching from business leaders and a list of potential customers.
The entry period closes on 30 August 2007. The preliminary jury will then choose three to five finalists, who will present their ideas to the jury on 29 September during PICNIC'07. The preliminary jury includes Emily Farnworth (Leadership Group Manager The Climate Group), Bruno Giussani (Writer, Commentator, Entrepreneur), Joris Krüse (Executive Creative Director Media Republic), Jeffrey Prins (Programme Manager for Sustainable Development DOEN Foundation) Femke Rotteveel (Coordinator Applications Dutch Postcode Lottery) and Marleen Stikker (Co-founder PICNIC).
http://greenchallenge.picnicnetwork.org
Full details on the Green Challenge, including entry criteria, are available on the website.
Featured Product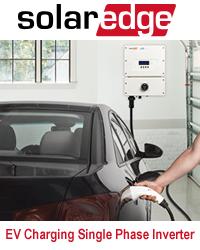 The SolarEdge PV inverter combines sophisticated digital control technology with efficient power conversion architecture to achieve superior solar power harvesting and best-in-class reliability. The fixed-voltage technology ensures the solar inverter is always working at its optimal input voltage over a wider range of string lengths and regardless of environmental conditions. A proprietary data monitoring receiver has been integrated into the inverter and aggregates the power optimizer performance data from each PV module. This data can be transmitted to the web and accessed via the SolarEdge Monitoring Portal for performance analysis, fault detection and troubleshooting of PV systems.