Silicon Valley Financial Leader Lends Skills to Solar Manufacturer
Santa Clara, Calif. - August 15, 2007 - Solaicx®, a leading manufacturer of mono-crystalline silicon ingots and wafers optimized for photovoltaic applications, today announced that Jeff Osorio has joined the company as chief financial officer. Mr. Osorio, former corporate controller and interim CFO of Cypress Semiconductor, comes to Solaicx following the announcement of a large production expansion into a new manufacturing facility in Portland, Oregon.

"Throughout my 30 years of experience in Silicon Valley, I have enjoyed guiding tech companies through the financial complexities of production expansion," said Mr. Osorio. "I am looking forward to joining the Solaicx team during this pivotal time to help scale up and optimize fiscal operations across the company."
Building on momentum generated by Solaicx's interim CFO, Dick Davison, Mr. Osorio will develop and execute on Solaicx's financial strategy in order to drive profitability for the growing company. Mr. Osorio's fiscal expertise stems from experience in executive finance and controller roles at such industry icons as Silicon Graphics, Spectra-Physics, Atari, and Cypress Semiconductor, where he was involved in the spin-out of SunPower Corporation. In addition to his work in the corporate world, Mr. Osorio has been a member of the Accounting Advisory Board and the Dean's Advisory Board at Cal Poly San Luis Obispo as well as a member of the Accounting Advisory Board and the MBA faculty at Santa Clara University.
"Jeff's experience with both large and small companies in semiconductor and solar related fields make his addition to our team invaluable," said Bob Ford, president and CEO of Solaicx. "Jeff has earned the respect of executives throughout the Valley as a practical leader who makes the finance function a strategic resource for driving company profitability while building teams dedicated to the success of the business."
Solaicx has created an advanced manufacturing technology that yields low-cost, higher quality solar ingots and wafers optimized for photovoltaic applications. The company's proprietary equipment is designed for the high volume, continuous production of superior-performance, single crystal silicon ingots that dramatically reduce manufacturing costs. Designed specifically for the photovoltaic industry, the Solaicx method sidesteps the inherent inefficiencies of the semiconductor manufacturing process, enabling efficiencies that translate into more affordable solar electricity.
About Solaicx
Solaicx manufactures low-cost, high-quality silicon ingots and wafers using proprietary equipment optimized for the solar industry. Solaicx is "making solar electricity cost effective"® by reducing the manufacturing cost of crystalline photovoltaics, which comprise over 90% of all solar cells on the market today. The Solaicx process provides significant competitive advantages in terms of cost, quality, and silicon utilization. Solaicx is headquartered in Santa Clara, Calif. with a large-scale production facility in Portland, OR.
Featured Product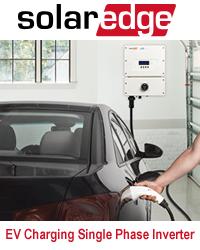 The SolarEdge PV inverter combines sophisticated digital control technology with efficient power conversion architecture to achieve superior solar power harvesting and best-in-class reliability. The fixed-voltage technology ensures the solar inverter is always working at its optimal input voltage over a wider range of string lengths and regardless of environmental conditions. A proprietary data monitoring receiver has been integrated into the inverter and aggregates the power optimizer performance data from each PV module. This data can be transmitted to the web and accessed via the SolarEdge Monitoring Portal for performance analysis, fault detection and troubleshooting of PV systems.