The GreenXchange Leadership Conference this December 10-11 has announced the initial set of speakers. The GreenXchange Leadership Conference is the first multi-sector and cross-disciplinary event where attendees can experience a complete portfolio of green solutions and market opportunities.
New California Climate Change Czar Mary Nichols, Google's Environmental Chief Robyn Beavers, Green Building Expert ARUP COO Andy Howard, and U.S. Senator Max Baucus Among Market-Shaping Leaders Slated to Participate

Los Angeles, CA, and Framingham, MA, - August 20, 2007 - GreenXchange LLC, the newly formed partnership of tradeshow innovator IDG World Expo, and environmental think-tank VerdeXchange, today announced the initial list of leaders and visionaries in sustainability and environmental issues who will address conference attendees at the upcoming GreenXchange Leadership Conference, being held December 10-11, 2007 at the Century Plaza Hotel in Los Angeles. The conference will provide a forum for leading authorities to discuss the realities of shaping the green world.
"This inaugural GreenXchange Leadership Conference is about bringing together the top thought leaders, innovators and policymakers to present the green marketplace opportunities of today and the direction for tomorrow," said David Abel, managing partner, VerdeXchange. "The outstanding roster of speakers we've attracted are true pioneers in sustainability and green technologies who are shaping the new green marketplace, and we are delighted that they are bringing their experience and insight to GreenXchange."
Those headlining the current list of confirmed speakers for the GreenXchange Leadership Conference are as follows. Names of additional conference speakers can be found at www.greenxchangexpo.com.
Mary Nichols, Chair, California Air Resources Board. Ms. Nichols is in charge of the nation's most progressive and expansive program to deal with green house gases and climate change. The California program is expected to be the template for similar action around the country and has already served as the basis for similar programs in other States.
Brian Martel, Managing Partner, Environmental Capital Group has been advising CalPERS, the largest pension fund in the United States on their expanding investments in green technologies.
Sen. Max Baucus, US Senator, State of Montana. Senator Baucus, who is the Chairman of the Senate Finance Committee, a senior member of the Senate Environment and Public Works Committee, the Senate Agriculture Committee, and the Joint committee on Taxation is a key participant in the shaping of Federal environmental and energy tax policies.
Daniel J. Dudek, China-based Chief Economist for Environmental Defense is working closely with the Chinese government on their policies and plans to address environmental issues through technological change.
Robyn Beavers, Director of Sustainability, Google Inc.: Beavers manages Google's Green Business & Operation strategy. Additionally, Ms. Beavers sits on the Board of Directors for GRID Alternatives, a non-profit organization that works to bring solar electricity and energy efficiency to low-income homeowners.
Michelle Kydd Lee, Executive Director, CAA Foundation: Michelle Kydd Lee, who runs a foundation for Creative Artists Agency, one of the leading talent agencies in the world, has a keen perspective of how the world of entertainment and advertising has both impacted and been affected by changing attitudes towards the environment, particularly in the field of climate change.
David Freeman, President, Los Angeles Board of Harbor Commissioners. Freeman is leading an enormous project designed to reduce the environmental footprint of LA and San Pedro Harbors, which combined comprise one of the world's largest and busiest ports. The project will rely heavily on new green technologies in transportation, energy conservation and a number of other areas to meet its goals.
Andy Howard is Chief Operating Officer, Arup Americas: Headquartered in London, ARUP, a leader in green building technologies, is one of the largest global engineering and design consultants to the builders of large and complex infrastructure projects. Their projects include the Sydney Opera House, the Millennium Bridge in London and the Pompidou Center in Paris.
Robert Hertzberg, Founder and Co-Chair, G24i: G24I is expected to soon enter the market with cutting edge photovoltaic solar energy products which could transform the way we think of using and building solar installations.
Des McGinnes, Business Development Manager, Ocean Power Delivery Ltd., an Edinburgh based company, is bringing to market offshore energy solutions that could be in place in the near future.
John Sheregian, Co-Founder, Chairman and CEO, Electronics Recyclers is at the forefront of one of largest emerging environmental issues - the disposal and result of electronic waste. His company specializes in the dismantling of CRTs and is recognized as one of the largest Electronic Waste Recyclers in the North America.
Earl Blumenauer, 3rd District, Oregon, United States Congress: Congressman Blumenauer is a trendsetter on environmental policy in the U.S. Congress where he serves as a member of the Select Committee on Energy Independence and Climate Change, and has been a leading voice globally in promoting sustainable development and alternative energy.
"We're thrilled to have a line-up of speakers of this caliber who are not only committed to the event but are attracting other industry luminaries who want to sign-on as speakers," said Mary Dolaher, CEO, IDG World Expo. "Attendees will benefit from the opportunity to hear directly from the people at the forefront of the green movement as they deliver powerful perspectives on a myriad of emerging green technologies and opportunities across multiple industries."
The GreenXchange Leadership Conference is the first multi-sector and cross-disciplinary event where attendees can experience a complete portfolio of green solutions and market opportunities. Discussions and ideas presented at the conference will inspire the agenda for the first annual GreenXchange Xpo, scheduled to take place October 1-3, 2008 in Los Angeles, California.
Conference session tracks for the December event include:
Non-Renewables
Renewables
Air, Water and Waste: Environmental Management & Sustainable Efficiencies
Clean Tech: Green Grid, Transport & Infrastructure
Capitalizing Green Tech
Climate Change Policy - Our Future Energy Mix
Further speaker additions will be forthcoming. For a complete list of conference tracks and sessions, visit www.greenxchangexpo.com.
About GreenXchange Xpo
GreenXchange (www.GreenXchangeXpo.com) is a world-class conference and exposition, bringing together policy-makers, thought leaders, innovators and consumers to shape the "green world." The events offer ecologically friendly, environmentally sustainable products and services in forums that provide education, stimulating debate, and product display and viewing opportunities. The attendees of these forums are thought leaders, policy makers, and key facilitators of "green" products and technology from the public, private and NGO (non-governmental organization) sectors looking to rapidly forward an ecologically effective marketplace.
About IDG World Expo
IDG World Expo (www.idgworldexpo.com) produces tradeshows and events for professionals seeking world-class education, peer-to-peer networking and one-stop comparison shopping. IDG World Expo's portfolio of conferences and events includes Entertainment For All' (E For All'), E3 Media & Business Summit, GreenXchange Xpo', LinuxWorld Conference & Expo®, Macworld Conference & Expo® and Next Generation Data Center' (NGDC'). IDG World Expo is a business unit of IDG, the world's leading technology media, research and event company.
About VerdeXchange
VerdeXchange, LLC is a start-up environmental think tank and publisher created to inform and strategically advise green innovators wishing to diffuse green technology and innovations in the marketplace. VerdeXchange Institute is committed to sharing with civic and commercial entrepreneurs the evolving business signals and government drivers influencing the global marketplace for green innovation and technologies. For additional information about VerdeXchange go to: http://www.verdexchange.org
Featured Product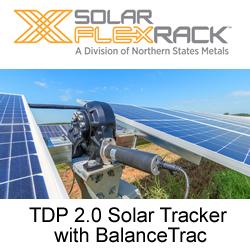 Solar FlexRack's latest solar tracker technology bundles an advanced tracker design with a full team of seasoned engineering and installation experts at your service. The next-generation solar tracker delivers a package of features that both enable increased energy yields for commercial and utility-scale solar installations, and significantly reduce project risks. That translates to smart installation cost-savings across your project budget.