Veeco provides production and research deposition sources for thin-film CIGS, plus MOCVD systems for III-V multi-junction solar cells and a full line of metrology equipment that includes optical, scanning probe microscopes and profilers. Find out more at www.veeco.com/solar.
St. Paul, MN - August 23, 2007 - Veeco Instruments Inc. (Nasdaq:VECO) has introduced a line of new production-scale PV-Series' Thermal Deposition Sources, enabling copper indium gallium selenide (CIGS) thin film solar manufacturers to quickly transition from pilot to full scale solar cell production. Veeco's new line of thermal deposition sources for CIGS, includes PV-Series SUMO® (for copper, indium and gallium) and PV-Series Valved (for selenium and sulfur) for R&D and production environments.

"Veeco's new PV-Series sources for CIGS represent the industry's first commercially available production-scale thermal deposition solution for thin film solar manufacturing," said Jeffrey Hohn, Vice President and General Manager, Veeco St. Paul. "We believe that our PV-Series sources will accelerate our customers' production ramp, reduce capital costs and provide more reliable operation, compared to currently available sources or solar cell manufacturers' in-house custom designs."
In addition to the new thermal deposition sources, Veeco's suite of solar technology solutions includes Metal Organic Chemical Vapor Deposition (MOCVD) systems for multi-junction solar cells and a complete suite of thin film and surface roughness metrology systems, including atomic force microscopes, stylus profilers and optical interferometer technology.
Additional information on Veeco's solar solutions can be found at http://www.veeco.com/solar.
About Veeco
Veeco Instruments Inc. provides solutions for nanoscale applications in the worldwide semiconductor, HB-LED/wireless, data
storage, and scientific research markets. Our Metrology products are used to measure at the nanoscale and our Process
Equipment tools help create nanoscale devices. Veeco's manufacturing and engineering facilities are located in New York,
California, Colorado, Arizona, Minnesota and New Jersey. Global sales and service offices are located throughout the United
States, Europe, Japan and Asia Pacific. Additional information on Veeco can be found at http://www.veeco.com/.
---------------------------
To the extent that this news release discusses expectations about market condition, market acceptance and future sales of Veeco's products, Veeco's future financial performance, future disclosures, or otherwise makes statements about the future, such statements are forward-looking and are subject to a number of risks and uncertainties that could cause actual results to differ materially from the statements made. These factors include the challenges of continuing weakness in end market conditions and the cyclical nature of the semiconductor, data storage, HB-LED wireless and scientific research markets, risks associated with integrating acquired businesses and the acceptance of new products by individual customers and by the marketplace and other factors discussed in the Business Description and Management's Discussion and Analysis sections of Veeco's Annual Report on Form 10-K, subsequent Quarterly Reports on Form 10-Q and current reports on Form 8-K. Veeco does not undertake any obligation to update any forward-looking statements to reflect future events or circumstances after the date of such statements.
# # #
Featured Product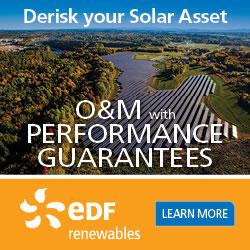 EDF Renewables offers the same innovative solutions that maximize the performance of our own 5.2 GW of installed projects. Because we're not an equipment manufacturer, our recommendations are transparent and data-driven. We cover the entire project lifecycle: from pre-commissioning support, through warranty and post warranty operation, to late stage and decommissioning.